Brands we work with





Why CP
DIGITAL LEADER in Christian Media

We have 20 years of experience reaching Christian communities alongside the evolution of digital media.

WIDE INFLUENCER Network

Prominent leaders and influencers connect with Christian Post. Together, we make a difference.

FAITH-DRIVEN CONSUMERS

Faith Driven Consumers represent more than 41 million adults in the US alone, with the spending power of $2 trillion dollars annually.
How we do it
GET TO KNOW YOU

An effective campaign starts with understanding our client's unique needs and strategic planning.

CREATE & CONNECT

From content creation to targeted distribution, we have the tools and services to get your message across multiple platforms.

TEST & OPTIMIZE

We track, measure and analyze data throughout the campaign, making tweaks along the way.

IMPACT

Measurable actions make ROI count.
BRANDED CONTENT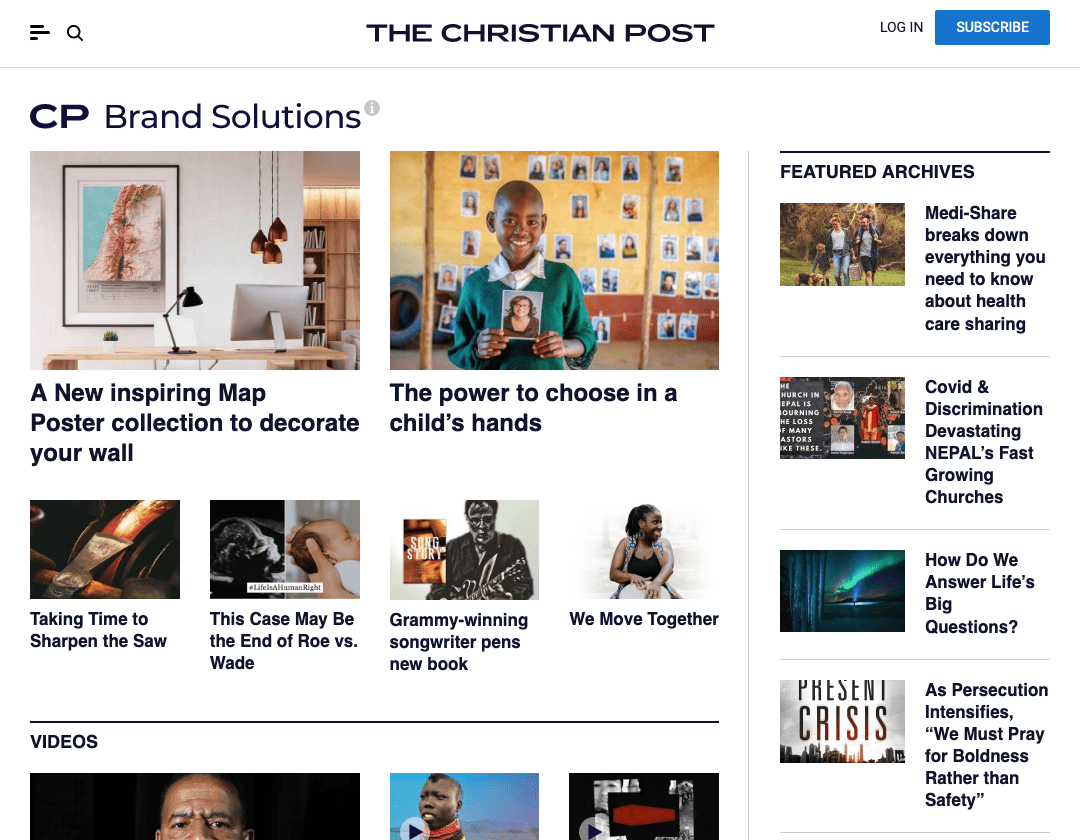 CP Brand Solutions works with you to publish articles, podcasts, and videos that help CP readers connect with your brand. Not only does branded content drive traffic and leads, it improves your brand's position in the mind of the reader through storytelling.
VISIT THE BRAND SOLUTIONS PAGE
Testimonies
2019-2021 Award of Excellence
Newspaper - Online News

I love the Christian Post!

Rick Warren

Pastor, Saddleback Church

The Christian Post is a dynamic and engaging audience of believers. They provide excellent customer service on a daily basis. Their timely attention and excellence can't be overstated.

Tori C.

Digital Acquisition Manager
for Alliance Defending Freedom
Time and time, they have come up with unique ways to market our book. Not only that have provided tangible results when often similar relationships are met with over-promises and under-delivery.

The Center for Executive Leadership
with Richard Simmons III

I read the Christian Post every day! I think it is a very outstanding and very current site for Christians!

Greg Laurie

Senior Pastor,
Harvest Christian Fellowship

Here at DTS we really value our advertising relationship with the Christian Post. Being that The Christian Post is a trusted source for many Christians, it only made sense that our seminary advertise with them, and we are glad that we did.

Dr. Edward Herrelko

VP of Marketing,
Dallas Theological Seminary
Advertising with the Christian Post proved to be a great return on investment for Wear Scriptures. There has been a steady flow of traffic to the website.

Dionne Cameron

Owner, Wear Scriptures

I appreciate the Christian Post... for giving Christians a voice and for being honest and fair in reporting

- Duck Dynasty

The Christian Post is among the top traffic sources to our website and has boosted awareness of our international ministry to a whole new audience.

MELISSA FLECK

Communications Manager
Ready to learn more?
Contact us to learn how The Christian Post can help you drive growth.
Let's Talk