Christian comedian Michael Jr. shares transformative stories from his life in new book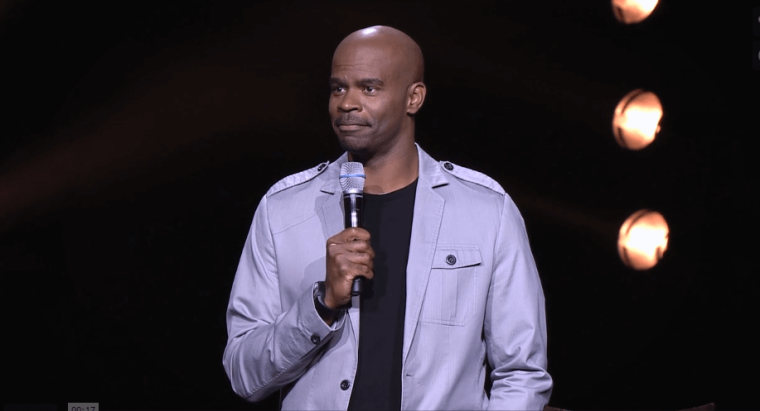 For much of his adult life, comedian Michael Jr. has made people laugh, uplifting audiences from some of the world's biggest stages.
But in between jokes, the outspoken Christian and father-of-five inserts practical wisdom — a practice that, he discovered, impacted audiences in sometimes unexpected ways. 
"One time, after a comedy show in Sacramento, California, security approached me and said, 'There's this guy that really wants to talk to you,'" he recalled. "I look up, and there's this white dude, wearing a wife-beater, really tatted up, and he looked really high because his eyes were all red. But I realized he'd been crying."
After a brief conversation, the man revealed to Michael Jr. that he was a fugitive of the law in several states and had attended the comedy show to release some of the pressure he was feeling internally. Incredibly, the man then asked the comedian to help him turn himself in.
"So that's what we did; we called the police," he recalled. "They showed up, I prayed with the dude, I gave him a hug, and he got into the back of the police cruiser, and they drive off."
"Now, why did that happen?" the award-winning comedian posited. "If I was only doing jokes and not speaking between the gaps, I never would have had the opportunity to really speak into some people in a way that they needed to be spoken to."
"In your life, there are gaps," he explained. "The question is, what questions are you asking in between the gaps? Are you asking, 'What can I get?' or are you asking, 'What can I give?' If you change the question, you'll get different answers."
It's life-changing instances like the story about the fugitive — that Michael Jr. said have consistently happened throughout his life — that compelled the podcast host to write his latest book, Funny How Life Works.
Released earlier this year, the book, which sold out shortly after its initial release, includes a collection of stories the comedian told The Christian Post he hopes will inspire readers to embrace their God-given purpose — or, how he describes it, their "punchline." 
"My hope is that people read the book and because they laugh. They may not even be aware of how it's helping them look at things a little different," he said. "I wrote the stories in such a way that I hope they can see themselves in it, laugh, and receive some actionable takeaways. It's the same thing I do on stage and in comedy. I try to use my talents and resources to ensure that the audience is moving in one direction and it causes revelation, fulfillment, and joy expressed through laughter."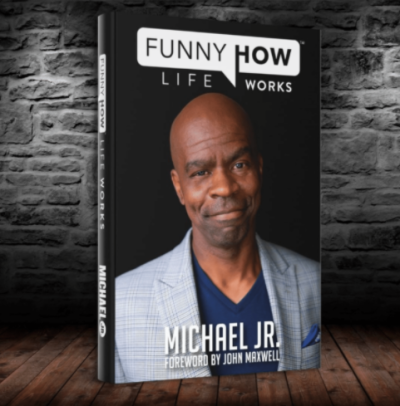 Woven throughout the book are lessons the "Selfie Dad" star gleaned from his father, a man he described as "pretty awesome," that impacted the trajectory of his life, from working as an oil change technician in Grand Rapids, Michigan, to performing on the country's biggest comedy stages. 
"I didn't realize how brilliant it was until I had my own kids. My dad would never sit me down and have talks about sex, drugs, or hard things or drugs," he reflected. "Instead, we would have an activity we were doing together, like fishing, for example. While we're catching fish, we would have those conversations. So because that was going on, I was receiving what he was saying. I was able to ask questions, and it took that weird awkwardness away. It was very, very strategic on his part to instill those things in me."
Michael Jr. recalled how his father instilled in his children the importance of prayer and reminded them of their God-given value while giving them the independence to make their own decisions — principles he now uses in his own parenting. 
"What I tell my kids is, 'What you know about God is 100% true. And there's going to be people who are going to try to take that truth from you,'" he said. "Whether it's a friend or guy at school, they are going to show up and try to convince you of something different.'"
"I plant these seeds in my kids' heads before it happens so that they are able to play above the game as opposed to being in it and questioning what they know to be true," he added.
In his book, Michael Jr. also reflects on the importance of perseverance in the face of adversity and forgiveness, recounting the terrifying time police held a gun to his head after falsely accusing him of selling illegal drugs. 
"I've had encounters with the police since then and don't hold a grudge with any of them," he said. "I talk about bitterness and how anger actually perpetuates pain. The sooner you can let that go, the faster your healing will come."
"What you do," he added, "is you keep telling your story, and use those stories as leverage to help people really live a better life."
Seeing his platform as an opportunity to bring hope in hopeless places, Michael Jr. frequently performs in uncommon places, including homeless shelters and prisons. And through his comedy, acting and writing, the comedian said he strives to both make people laugh and speak wisdom into their lives in such a way that they leave both uplifted and inspired.
"After meeting Jesus, my goals changed," he said. "I'm always asking, 'What can I give to this audience right now?'" 
"When people laugh, their hearts open," Michael Jr. added, "and when your heart is open, I want to make a deposit into it that could make a positive change and help you to discover your God-given purpose."