Miles McPherson: US churches finally addressing racism because Satan 'overplayed his hand'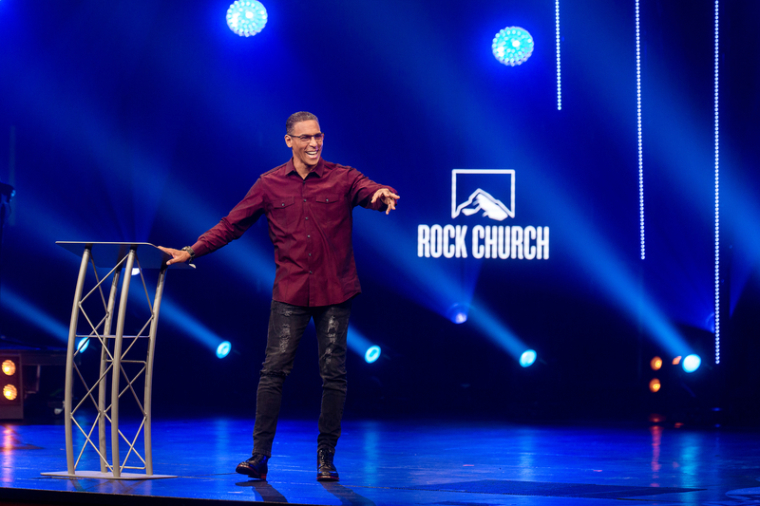 ANAHEIM, California — Miles McPherson, former NFL star and pastor of Rock Church in San Diego, said he believes the U.S. church is making positive strides toward racial reconciliation because Satan "overplayed his hand" by planting seeds of division within the Body of Christ.
"I don't think churches that are asking me to speak on the issue of race or that are addressing this topic would have done so three years ago," McPherson told The Christian Post during a sit-down interview in Anaheim, California. "I believe that the devil overplayed his hand in our life; churches are getting behind this because the devil pushed us too far. I've been in numerous conversations with pastors who have said, 'I want to listen. Please teach us, we want to learn.'"
White churches, in particular, McPherson said, have been working toward racial reconciliation in recent years.
"And that's encouraging because unless the white church does something, it's not going to change because people of color don't have enough power," he said. "Historically, whites have stayed out of the conversation because they didn't want to be called racist and it's uncomfortable and scary. But now they're learning it's acceptable to talk about it. White churches and pastors are realizing, 'We need to get in this conversation and do something about it,' and that's a great thing."
McPherson, a former San Diego Charger, is the author of a new book, The Third Option: Hope For a Racially Divided Nation. In it, he discusses racial divisions in society and argues that people must learn to see others not by the color of their skin, but as God sees them—humans created in the image of God.
"Every race conversation is about us versus them; white versus black; for or against the police; or you watch Fox and CNN — there's always two sides, and you feel like you need to choose which side you're on," he said. "The third option is that we honor what we have in common. We all are 99.5% genetically the same, we're all made in the image of God, we all have a stomach and heart and lungs, etc. And yet, we focus on this one thing that appears to be so different."
"But if we can acknowledge the things that we have in common, one of which is Jesus' command to 'love each other,' we will get along a lot better. His book gives people tools on how to do that.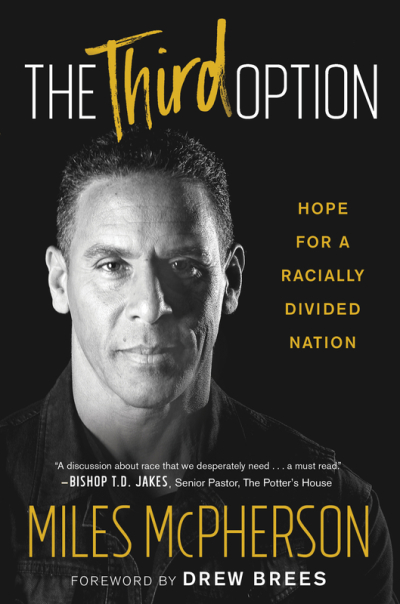 McPherson speaks from a unique perspective: He's the offspring of two black grandfathers, a half-Chinese and half-black grandmother, and a white grandmother. He shared how growing up, he was constantly told he wasn't "black" or "white" enough.
"Everywhere I went, whether my neighborhood or where I went to school, I was an outsider," he said. "And then I saw on television all the racism in the '60s; I vividly remember when Martin Luther King was killed, thinking how unfair it was and asking, 'Who's going to speak up for us now? and what are we going to do?'"
"That became my personal burden all of my life and it informed my passion. I finally got a chance to write a book on that issue, and I had a great deal of time to think about how to explain things."
In his book, McPherson exposes common misconceptions that keep people at a distance and offers tools to help readers understand the points of view of others. He draws a distinction between the terms "racist" and "racially offensive," pointing specifically to the well-meaning term "I don't see color."
"When people say that, they're usually trying to relate or build bridges," he said. "What they don't realize is they're actually saying, 'I'm ignoring everything that God made about you and I'm ignoring the burden that your color has caused in your life. I don't want to talk about it. So I just don't see what you are.'"
"People have to realize that they can be racially offensive and not be a racist because if you can't separate those two things, whenever someone tells you that you are offensive, you will assume they're calling you racist. So you have to be able to accept that, 'Maybe I am offensive, but it doesn't necessarily mean I'm a racist. Let me just address it and learn from it versus deny that it's offensive because I don't want to accept that I'm a racist.'"
Racism, he said, can be conquered when individuals take ownership and responsibility for their own attitudes, words, and actions, and accept that they have blind spots.
"I have to be walking with God, allowing the Holy Spirit to guide and direct me and show me new things about life and about myself," McPherson said. "I have to understand I have blind spots, and there are things I don't know. So when I meet a person, instead of assuming things about them, I need to allow them to self-disclose to me who they are and I need to learn from them. If people can walk with that humility, you would meet a lot of fascinating people because God doesn't make junk."
The pastor urged Christians to honestly ask themselves: "How many people have been in my house who don't look like me?
"We want what's comfortable, what's safe, we want what we know, so we put our friends and people in certain boxes and say, 'OK, I know enough of that culture. I'm good,'" he said. "Instead, we need to do what Jesus did when he incarnated Himself and became a man and died. He said, 'I'm going to assume all of your pain.' That's what we do when we go to people's houses and hear their stories."
McPherson's own conversion to Christianity stemmed from an unlikely encounter: "When I was 19, I was in a department store in a black neighborhood at night waiting for my girlfriend to get off work, and these two hippies came to me, White guys with beers and bummy clothes," he recalled. "These two guys shared the Gospel with me and told me about a relationship with Jesus. I'd never heard it before, and I instantly knew that was right. So I asked Christ to be my Savior."
At 22, McPherson was drafted by the Los Angeles Rams, only to be cut and then picked up by the San Diego Chargers.
"During that time, I wasn't discipled, so I fell back into doing a bunch of stuff," he said.
One night, while in the middle of a weekend-long drug binge, he called on Jesus for help.
"I said, 'You know what? I'm going to recommit my life to Christ because for those five years, God just kept speaking to me,'" he said. "On April 12, 1984, I stopped doing cocaine and smoking marijuana. My girlfriend and I got back together and got married that year, and now we've been married 35 years."
After retiring from the NFL, McPherson decided to turn his passion for Jesus into a career. Today, he pastors one of the fastest-growing churches in America. He told CP  he strives to use his platform to inspire people and honor God's heart for unity — and that begins with fulfilling Jesus' greatest commandment: Love the Lord your God and love your neighbor as yourself.
"The problem is that if you rename somebody less than 'neighbor,' you don't have to love them anymore," he said. "So we give people labels and we dehumanize them so that they're no longer our neighbor and we don't have to love them. That gives me permission to mistreat them because they're not like me, they're less than me. And I think that's a very good trick of the devil."
"We have to go back and put the label 'neighbor' on everybody because the Good Samaritan story teaches us that everybody is our neighbor," he continued. "How am I going to say, 'I love God, who I can't see, but I hate my brother who can I see?' Simple as that."
"The most basic thing I can do is love you and the most basic offense is not to love you just because of the way you look," McPherson said. "Instead of putting labels on people, we must see them as fascinating, spiritual, eternal beings that God made."