Rubio and Huckabee Find Life In the Constitution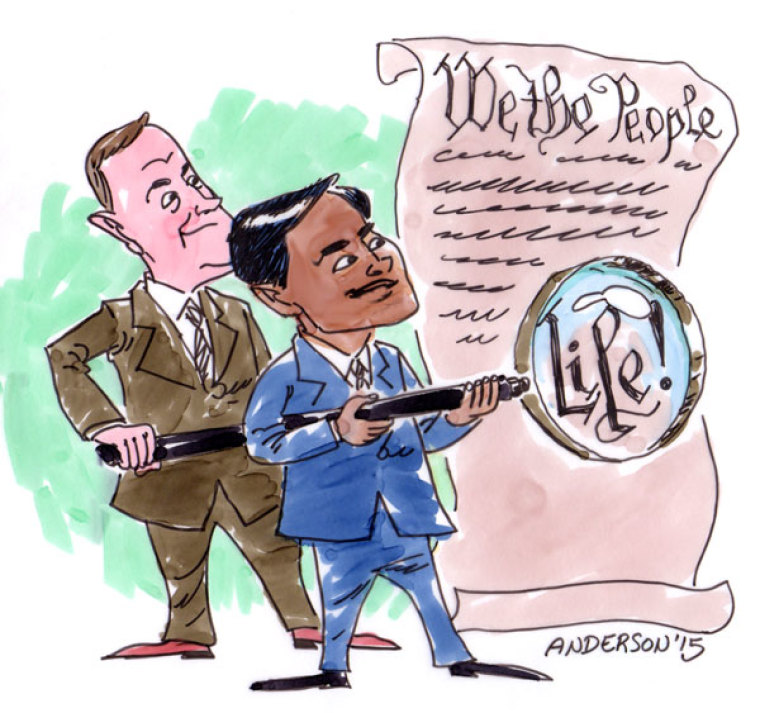 Former Arkansas Gov. Mike Huckabee and Sen. Marco Rubio, R-Fla., argued in Thursday night's Fox News Republican presidential debate that an unborn child's right to life is inherent under the United States Constitution and the passage of a constitutional amendment is not required to ban abortions.
Huckabee's first response at the the primetime debate, which featured the top-10 polling GOP candidates, was prefaced by moderator Chris Wallace asking him how he would persuade Independents and Democrats to vote for him when he advocates strongly for constitutional amendments banning same-sex marriage and abortion.
"Chris, I disagree with the idea that the real issue is a constitutional amendment. That's a long and difficult process. I've actually taken the position that's bolder than that," the 59-year-old Southern Baptist minister responded. "A lot of people are talking about defunding Planned Parenthood, as if that's a huge game changer. I think it's time to do something even more bold. I think the next president ought to invoke the Fifth, and Fourteenth Amendments to the Constitution, now that we clearly know that that baby inside the mother's womb is a person at the moment of conception."
Read more at http://www.christianpost.com/news/huckabee-rubio-say-right-to-life-already-inherent-in-the-constitution-at-gop-debate-142436/