CP Daily
Our most popular newsletter, delivering daily news to your inbox.
Good afternoon! It's Friday, December 2, and today's headlines include U.S. Secretary of Health and Human Services Xavier Becerra's support for using taxpayer funds for body mutilating sex-change surgeries for children, YouVersion's top verse of 2022, the latest poll on Church attendance over the Christmas season, and Kayne West's interview with Infowars' Alex Jones.
The United States Department of Health and Human Services says that
taxpayer funds should be used
to cover the cost of body mutilating "gender transition" surgeries for minors. In
written responses
to Rep. Mary Miller, R-Ill., U.S. Secretary of Health and Human Services Xavier Becerra said that the Biden administration supports using taxpayer dollars to cover the costs of elective body-deforming surgeries on youth, such as mastectomies and vaginoplasties. His responses were submitted Tuesday to the U.S. House Committee on Education and Labor. "The Biden-Harris Administration supports the upcoming release of the World Professional Association for Transgender Health (WPATH) Standards of Care Version 8 and believes that all children and adults should be afforded life-saving, medically necessary care. Payers, both public and private, should cover treatments which medical experts have determined to be medically necessary," wrote Becerra.
Miller reacted to Becerra's responses to her questions, published by
The Daily Caller
Wednesday, in a
statement
Thursday: "Biden's HHS secretary has now confirmed that the Biden administration is using taxpayer dollars to push young children to have sex change operations and take dangerous chemicals that do permanent damage to their bodies," she said. "The Biden administration even supports allowing these procedures to occur without parental consent. American taxpayers should never fund puberty blockers and sex change surgeries on minor children." As Miller alluded to, Becerra also suggested that doctors should have the ability to perform sex change surgeries on minors without their parents' consent.
Continue reading.
P.S. Get rewarded for sharing our newsletters! Sign-up for the CP referral program—the more you share, the more you earn. Scroll to the bottom of this newsletter to get started today!

TOP STORIES
The YouVersion Bible app has revealed that
Isaiah 41:10
was the most referenced verse of the year. The verse reads, "So do not fear, for I am with you; do not be dismayed, for I am your God. I will strengthen you and help you; I will uphold you with my righteous right hand." Life.Church, which operates the app, also noted that it saw significant increases in Ukrainian-language Bible engagement across Europe from 2021 to 2022 in the wake of Russia's invasion of Ukraine, which resulted in many Ukrainians taking refuge in other European countries. "This year, the verse that people in Ukraine engaged with most is also the same verse that the global YouVersion Community shared, bookmarked, and highlighted most," Life.Church noted.
Read more.
A 60-year-old priest in Louisiana, known for his carpentry skills, was found dead by authorities due to what was described by some as a freak woodworking accident. Father Jimmy Jeanfreau, Jr., pastor of Immaculate Conception Church in Marrero who was also the executive director of the Pontifical Mission Societies, was found dead on Tuesday after apparently dying on Monday evening at a carpentry workshop on the church property. Authorities say there is no suspicion of foul play. Amy Dudgeon, who met Jeanfreau through her work with the nonprofit New Neighbor Project, told NOLA.com that the priest "had this gentleness and this compassion that just radiated from him," adding that he was "a light and such an advocate for the Hispanic community."
Read more.
Liberty University football coach Hugh Freeze has left to take the head coaching job at Auburn University, again becoming a head coach in NCAA's powerhouse Southeastern Conference. Freeze, who has over 12 years of experience coaching at the collegiate level, spent four years at Liberty, overseeing the football program's rise to the NCAA Division 1 Football Bowl Subdivision. He led the flames to a 34-15 record during his tenure, making bowl games each of the four seasons he coached at the Virginia-based Evangelical school. Freeze's signing with Auburn comes weeks after he signed an 8-year contract extension at Liberty, averaging roughly $5 million per year. Before
joining Liberty
, Freeze faced 21 academic, booster and recruiting violations during his time as head coach of the University of Mississippi and resigned from Ole Miss in 2017 after being accused of using a school phone to call escort services.
Read more.

CP VOICES
Rebecca Barrack discusses the process of overcoming grief to find joy again. Quoting the second half of
Psalm 30:5
, which reads,"Weeping may endure for a night, but joy comes in the morning," Barrack explains, "The 'night' is a season, a period of time. It certainly may last many nights, even months; but that verse is a promise that God will change the season, the sun will rise back up, just like the sun sets and rises again every day. He will bring you back from the darkness if you let Him."
Read more.
In this editorial, Christian Post Executive Editor Dr. Richard Land reflects on life in America in the 20th century and whether Americans—having shunned their heritage—have since lost their way. "I fear that the 'wokism' that has inundated our schools and colleges has robbed at least a generation of Americans of a proper understanding of our heritage and our obligation to take up that cause and pass it on both here and around the world," Land writes.
Read more.

FACTS & FIGURES
A Lifeway Research poll of 1,000 Protestant pastors in the U.S. has revealed that 48% of respondents say Christmas Eve services are the "most attended Christmas event" at their church. Twenty-six percent cited a Christmas-related event during the third week of December as the most popular, followed by 10% who listed an event taking place during the second week of December. Just 7% cited Christmas Day services as their "most attended Christmas event," while 6% listed the first week of December or earlier and 5% cited the first week of January.
Read more.

MEDIA & ENTERTAINMENT
In a bizarre
interview
with Infowars founder Alex Jones, Kanye West called on Americans to "put Jesus first" and said there are "good things" about Adolf Hitler. West, who wore a black mask over his face during the interview, covered topics ranging from Elon Musk and Twitter to free speech, Jewish people, and the Balenciaga scandal. The interview also included controversial Catholic political commentator Nick Fuentes, who is known for making anti-Semitic statements and has rebuffed accusations that he's a white supremacist despite his public comments about race and segregation. During the three-hour interview, which included several minutes of West praying in Jesus' name, the rapper declared that he is called to love everyone, even "Nazis," saying, "I love Jewish people. But I also love Nazis." West also continued to rant about "Jewish media" and asserted he was "done with classifications," saying, "Every human being has something of value that they brought to the table, especially Hitler."
Read more.
Award-winning actor Will Smith recently took to "
The Daily Show with Trevor Noah
" to discuss his latest film, "Emancipation," which is set for release in theaters and Apple+ this weekend. The film tells the story of an enslaved man named Peter who made history after a
photo of his wounded back
showing the years of physical lashings circulated nationwide during the Civil War. Smith says the film is focused on faith, adding that Peter seemed to have "the power of faith to be able to endure anything. This character ... what he had to endure and what he had to survive, only God could make a man, when you look at those marks on his back, only God could make that possible." Smith, who made headlines earlier this year for slapping Chris Rock at the Oscars, admits he "lost it," saying, "I guess what I would say is that you just never know what somebody's going through … you just don't know what's going on with people."
Read more.
Country music icon Johnny Cash's Christian faith "was what was important to him," according to his son, John Carter-Cash. In this interview with CP, Carter-Cash discusses his father's life, deep Christian faith, and the hard-earned understanding of God's forgiveness and grace that defined his life. Johnny Cash's life and dramatic conversion are the subject of the new documentary, "
Johnny Cash: The Redemption of an American Icon
," which is set for a three-day release in theaters on Dec. 5, 6 and 7. Narrated by Marty Stuart, it features previously unreleased footage and recordings of the "Ring of Fire" singer. Although Cash's life has been covered across media, literature and film, Carter-Cash says "Redemption" examines his father's faith in new ways, concluding, "If it hadn't been for his faith, there was a number of times that I know he would have died." Read the full interview
here
.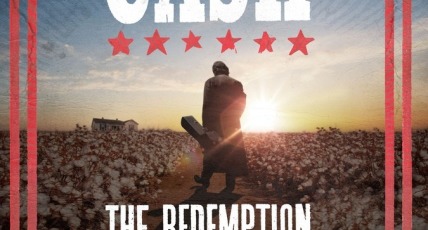 Thank you for spending part of your day with us. We look forward to seeing you again on Monday! -- CP Editors