10 MLB Players You Didn't Know Were Christian
1. Jeanmar Gomez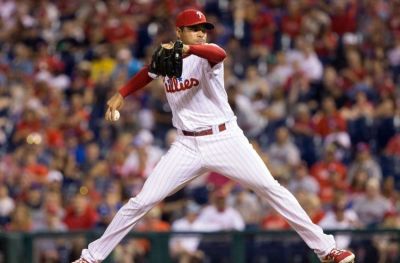 One player who really stands out for his faith is 29-year-old Philadelphia Phillies closer Jeanmar Gomez.
Maaddi told The Christian Post that one way in which Gomez uses his platform to share his faith is by choosing to play the song "Great Am I" by Puerto Rican Christian singer Julissa as the song that plays over the loudspeaker every time he's called into the game from the bullpen at Citizens Bank Park.
"Closers like to be intimidating — it's part of the job description. They're known for their entrance music. Mariano Rivera used 'Enter Sandman' by Metallica. Trevor Hoffman used 'Hells Bells' by AC/DC. [There are] many more examples. Hard rock and heavy metal songs are the go-to genre," Maaddi told CP in an email. "Then there's Jeanmar Gomez and he's so thankful for all of God's blessings that he chooses a beautiful song like this one that means that much to him."
"Fans and media mocked him for it, but that didn't bother him," Maaddi continued. "Gomez is one of the more mature Christians I've met anywhere, not just in sports. It was really cool to see later in the season fans stand up and sway to the music as he jogged to the mound."
Gomez grew up in a Christian household in Venezuela and his grandmother was the founder of a church there. Gomez writes in the book that "God used my grandma to speak to me about faith, and God has been with me always no matter where I go."