10 MLB Players You Didn't Know Were Christian
2. Chris Davis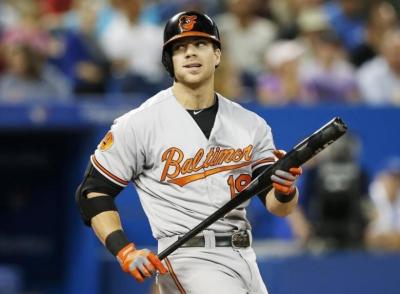 The slugging first baseman for the Baltimore Orioles, also known as "Crush" Davis, is known for hitting home runs, his solid defense and for mashing his fair share of balls onto Baltimore's Eutaw Street.
However, what some might not know about the 30-year-old from Longview, Texas, is that he has a Bible verse tattooed on his right rib cage. The verse is Hebrews 12:1–2.
"Therefore, since we are surrounded by such a great cloud of witness, let us throw off everything that hinders and the sin that so easily entangles," the verse reads. "And let us run with perseverance the race marked out for us, fixing our eyes on Jesus, the pioneer and perfecter of faith. For the joy set before Him he endured the cross, scorning its shame, and sat down at the right hand of the throne of God."
Davis wrote that the verse is a "constant reminder that we will face many difficult things in life that are hard for us to understand, but anything that we encounter, Christ has already experienced and overcome."