10 survivors who shared horrors of persecution at State Dept. ministerial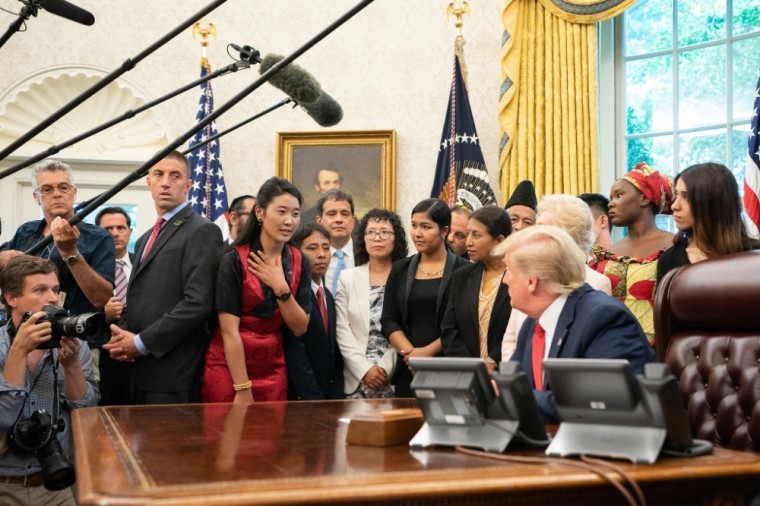 10. Nyima Lhamo — Tibetan Buddhist (China)
Lhamo is the niece of Tibetan Buddhist community leader Tenzin Delek Rinpoche, one of the community's most prominent activists who died in a Chinese prison in July 2015 after being imprisoned for life on false charges. 
Lhamo along with her mother, Dolkar Lhamo, were detained by Chinese authorities for simply questioning the cause of her uncle's death and demanding that the government investigate. 
In 2016, Lhamo fled to India and has spoken out about the fate of her uncle. She has called on the international community to intervene and urge the Chinese government to carry out a thorough investigation of her uncle's death. 
Lhamo's family continues to face harassment and threats from the Chinese government. 
As China has long been called out for its suppression and forced assimilation of Tibetan Buddhists, Lhamo raised the issue with President Donald Trump during last Wednesday's meeting in the Oval Office. She called on him to support the Tibetan Buddhists. 
Lhamo also spoke through a translator during a breakout session during last week's ministerial.  
"During one of the few meetings that was permitted, my family, my mother, when she met [my uncle], he told her about the trauma that he went through under Chinese hand and despite there being no basis for his detention or for his persecution. He suffered greatly," Lhamo said.  
"The inhumanity of the Chinese government can be seen from the fact that we, his relatives, were not given the opportunity to do the final rite for him according to Tibetan Buddhist tradition," she added. "From [my uncle's] situation, we can clearly see what is the situation of religious freedom in Tibet. The Chinese authorities interfere actively in Tibetan Buddhist tradition, including the issue of recognition of reincarnations." 
She mentioned the detention of the Panchen Lama, one of the holiest figures in the Tibetan Buddhist faith who was detained at the age of 6 in 1995 after he was recognized by the Dalai Lama. 
"The Chinese authorities detained him and we don't know where he is right now," she said as the Lama turned 30 this year.