30 Christian Shops Burnt in Nigeria After Deadly Attacks; More Violence Feared (VIDEO)
More violence is expected in Nigeria, where an Islamist terror group killed 39 on Christmas Day, pushing many citizens to flee the targeted cities Monday, reports say.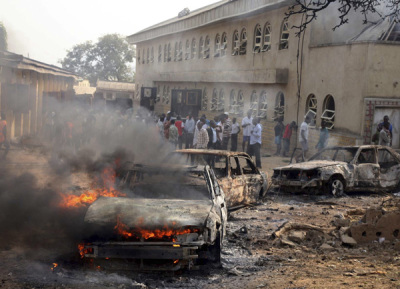 After the deadly attacks on churches in five cities across the country Sunday (another church was reportedly bombed in the northeast on Christmas Eve, but no one was reported killed), Nigerians are gripped by fear. Thirty-nine people died in the sieges (40, according to some reports), including 35 in Madalla, a town near the capital, Abuja. In another bombing in a church in Jos, one other person has also reportedly been killed. Bombs also targeted churches in the cities of Kano, Damaturu and Gadaka.
Reports project a high likelihood of renewed attacks, especially after 30 Christian shops were burned down later the same day of the church bombings in the northeastern city of Potiskum, Agence France Presse reported.
Hundreds of residents sought to flee the violence-torn city of Damaturu on Monday fearing further attacks and clashes between Islamists and police, according to AFP.
The coordinated attacks on churches were reportedly conducted by a radical Islamic terror group, Boko Haram. Nigeria has seen many attacks claimed by this group, but some analysts said the bombings marked a dangerous escalation in a country.
The attacks were condemned by church and secular leaders across the globe.
The Christmas violence was somewhat expected, as Nigerian Christians became the target of Islamist extremists last Christmas as well, at which time 38 died. Nigerian church leaders appealed for peace before this year's holidays. The country's authorities are now experiencing criticism for not being able to prevent the attacks.
Nigerian Christians Killed on Christmas Day
Nigeria is divided into the Muslim north and predominantly Christian south.
The Christmas holidays are a particularly hazardous time for the Christian community living in countries with Islamist extremist groups. Christians across the Middle East and Northern Africa are known to have experienced violence from radical Islamists in the past.
Christian communities in the targeted cities were mourning the dead Monday.
"I have never cried before," Father Isaac Achi of St Theresa's Catholic Church in Madalla said after the attacks, as quoted by AFP. "Yesterday I cried. This morning I cried. But with all of you around today, I will not cry again. Seeing you coming to say this mass, I'm telling you, I will not cry again."