3,000 Girls Join Boy Scouts; AFA Blasts Ongoing 'War Against God's Divine Order'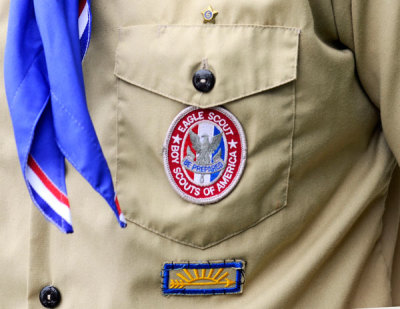 Boy Scouts of America began admitting girls into its Cub Scouts programs and so far, 3,000 elementary school-aged girls have joined through an early adopter program that began in January.
Older girls will be able to earn the Eagle Scout rank beginning in 2019. 
While some families have expressed excitement for the coed move, which was announced last October, others have decried the decision. 
Ed Vitagliano, executive vice-president of the American Family Association, said in a Facebook video on Tuesday that girls being allowed into the formerly boys-only organization "is part of the ongoing war against the Judeo-Christian worldview, the way God has established mankind, male and female."
Vitagliano argued that BSA has followed a downward spiral: "They first began to allow homosexuals, and homosexual troop leaders, and then transgenders, and now girls in with boys."
"The secular progressive, the materialistic worldview based in evolution says there is really no difference between boys and girls," he added, comparing the Boy Scouts' move with retailer Target's policy to allow transgender persons to use the restroom and changing room of their choice. "This is part of a broader war against God and His divine order."
BSA members have insisted that the change in allowing girls was made so that families can spend more time together rather than apart.
"Families today are so overcommitted," said Linda Migliazzo, a member of Boy Scouts of America Heart of America Council.
"We've got sports and school and after-school activities. This is something that can help bring families together rather than bringing them apart," Migliazzo added, according to KCTV.
Joy Wheeler, CEO of Girl Scouts NE Kansas NW Missouri, disagreed with such reasoning, however.
"Parenting is not convenient. It's the hardest job you'll ever have and we really do see this as opportunity to help parents see the data and facts so that they can make the best decision," she said.
Wheeler clarified that she does not having anything against the Boy and Eagle Scouts, but said that the program was not designed for girls.
"I am the proud mother of an Eagle Scout and it was a wonderful program for his development but I wouldn't encourage a girl in that environment," she noted.
Girl Scouts of America has argued that there are benefits to the single-gender environment that have been well-documented.
Faith-based alternatives to BSA, such as Trail Life USA, insisted last year that it would be wrong to disregard the differences between boys and girls.
"Increasingly, however, it seems that boys are being singled out and told that their natural traits and characteristics are somehow wrong or need to be corrected," said Trail USA CEO Mark Hancock.
"We believe that, properly encouraged and nurtured by good role models, what makes a boy a boy is good, for the individual and for society," Hancock added.