36-Y-O Mother and Son, 19, Fight for Right to Maintain Sexual Relationship 'Just Like the Gays'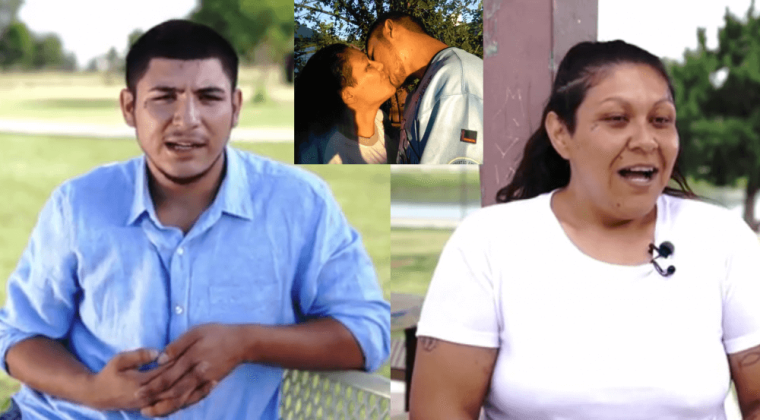 Monica Mares, a 36-year-old Clovis, New Mexico, mother and her 19-year-old son, Caleb Peterson, whom she recently reunited with after she gave him up for adoption when she was just 16, are now fighting for the right to maintain their sexual relationship "just like the gays" after they were arrested and charged with incest.
Mares and Peterson could each face up to three years in prison and a $5,000 fine if convicted, according to the Clovis News Journal. But her son believes if consenting gay adults are allowed to have sexual relationships without fear of the law, he and his mother should be allowed to live in peace as well.
"We are both consenting adults. If it comes down to it, it's just like the gays. As long as they're over 18 everything is fine. So I thought … I'm 19, she's and adult, I'm an adult, I can make my own decision. I never thought it would blow up like this. Honestly, if it wasn't that strong we would not be together," Peterson told the Daily Mail in a recent interview.
A criminal complaint filed Feb. 25 and cited by the Clovis News Journal says police responded to a domestic dispute near a home the mother and son shared on Edwards Street in Clovis and during the dispute they were informed of allegations that Peterson and Mares were having sexual relations.
"Caleb admitted to having a sexual relationship with Monica whom he knows to be his biological mother," the criminal complaint stated.
Mares, who has a total of nine children, denied having sexual relations with her son, according to court records. But she recently admitted publicly in the Daily Mail that they are indeed lovers and nothing will stop them from being together.
"He is the love of my life and I don't want to lose him. My kids love him, my whole family does. Nothing can come between us not courts, or jail, nothing," she told the Daily Mail.
"I have to be with him. When I get out of prison I will move out of Clovis to a state that allows us to be together," she added, even though incest is a crime in all 50 states.
Court records show Peterson was adopted by another family as a child and had only recently re-established contact with his mother and moved to Clovis, according to the Clovis News Journal.
"Caleb stated his mother had always had bad luck with men and had been in abusive relationships all her life. Caleb felt if he was there to take care of her, she would not have to deal with abusive men anymore and he would take care of the household and his younger brothers," the complaint against the couple reads.
It noted that the relationship between mother and son turned romantic and sexual in nature after Peterson moved in with Mares sometime after his 18th birthday.
Clovis District Attorney Andrea Reeb said the Clovis-Portales prosecutor's office has handled about 10 cases of incest since 2000, but none of them were between two consenting adults. She said she did not have enough information to know how she might proceed with this case.
"I can't put my personal views into it," she said. "If they violated the statute, even if it's consensual, it's the law and we will prosecute it. If the facts are weak, I might use discretion. … I just can't get all the information to make that decision at this early stage in the proceeding," she said.
The couple were scheduled for an arraignment in Clovis on Wednesday. In the Daily Mail interview first published on Monday, the mother-son couple said they chose to go public with their relationship to get help with their legal fund and raise awareness about Genetic Sexual Attraction.
According to the Telegraph, GSA is a powerful sexual attraction that occurs when biological relatives — parent and offspring, siblings or half siblings or first and second cousins — meet for the first time as adults.
An ABC News report notes that the phenomenon was first identified by Barbara Gonyo in the U.S. in the 1980s. She wrote the book, I'm His Mother, But He's Not My Son, which recounts her personal story of reuniting and having sexual feelings for a son she had placed for adoption when she was 16.
While there isn't much research on the subject, some researchers have hypothesized that an effect in infancy known as the Westermarck effect protects against GSA. When families live closely together, according to the theory, they become desensitized to each other as sexual prospects. This desensitization effect is supposed to happen between birth and age 6. The absence of this process is what creates GSA.
Psychotherapist Robi Ludwig told USA Today that though it is a "phenomenon that happens rarely, sexual attraction between parents or siblings who meet later in life can happen.
"We are drawn to what is familiar," Ludwig said. "When there is a genetic link, that can increase, especially if you are not raised together … knowing that it shouldn't happen."
David Finkelhor, a sociology professor at the University of New Hampshire told USA Today that he is skeptical of that argument.
"The vast majority of people getting back in touch with relatives would vastly prefer to have a good long-term relationship with their mother or sister they did not know than jeopardize that relationship by sexualizing it," said Finkelhor, who is also director of the Crimes Against Children Research Center.
Peterson told the Daily Mail that he started falling for his mother a week after moving in with her.
"I never had anyone cook me meals or give me anything," he said. "I never got anything my entire life, and she went out of her way to make me happy, and after about a week or so I started having feelings for her, and I guess I fell in love."
Mares told the Mail she was the one who made the first move but he also makes that claim as well.
"He was too, falling in love with me ... and I was falling in love with my son," she told the Daily Mail. "We took off to the park. ... I asked him, 'Would you ever date your mom?' And he said, 'Would you ever date your son?' And I said, 'Honest truth yes, I would.'"
Ludwig argued that the idea of normalizing incest, even in a "consensual" GSA case, can be dangerous, especially when it comes to an older parent and a younger person who might be too immature to understand the ramifications.
Peterson argues, however, that he was the one who made the first move.
"Who made the first approach was actually me," Peterson told the Daily Mail.
"What happened was, we were just hanging out and just talking and was just laughing and I looked at her and she looked at me and I just, I kissed her," he said.
The kiss he explained "had feelings behind it. It had a spark."