4 in 10 Evangelical Churchgoers Say Their Church Teaches Prosperity Gospel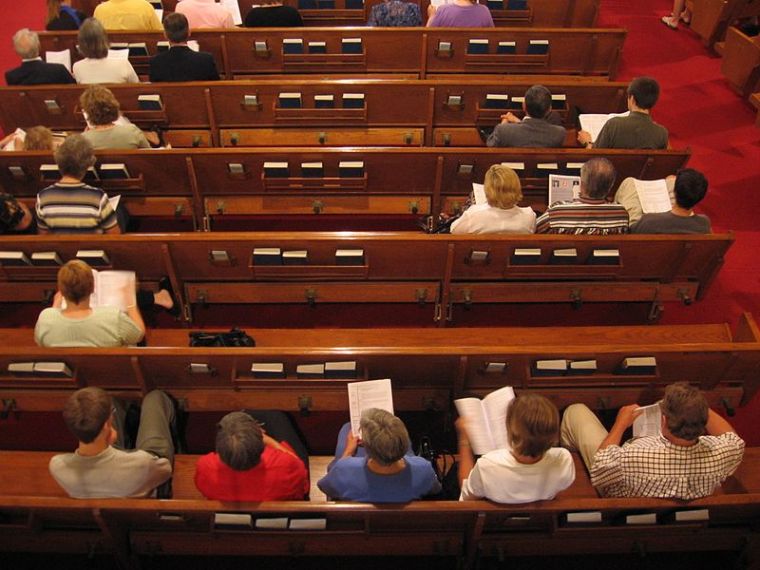 About four in 10 evangelical Christians say they attend a church where they're taught elements of prosperity gospel, according to a poll.
In a survey released at the end of July, LifeWay Research found that 41 percent of Christians with evangelical beliefs either somewhat or strongly agree that their church "teaches that if I give more money to my church and charities, God will bless me in return."
By comparison, only 38 percent of all Protestant respondents agreed with that statement, while 57 percent of Protestants disagreed. Meanwhile only 26 percent of Protestant churchgoers agreed that "to receive material blessings from God, I have to do something for God."
The survey, which was conducted Aug. 22–30, 2017, interviewed 1,010 churchgoers across the nation and has a 3.1 percentage point margin of error.
Prosperity theology is the belief that generosity toward the church will lead to greater blessings — financial or otherwise — in a believer's life.
The groups most likely to agree their churches teach that God will bless them if "I give more money to my church and charities" are Pentecostal and Assemblies of God churchgoers (53 percent).
While 41 percent of evangelical protestant churchgoers agreed with the statement, 35 percent of evangelical respondents disagreed.
Additionally, 75 percent of churchgoers with evangelical beliefs were more likely (75 percent to 63 percent) than churchgoers without evangelical beliefs to agree that "God wants me to prosper financially."
"A significant group of churches seem to teach that donations trigger a financial response from God," LifeWay Executive Director Scott McConnell said in a statement.
McConnell added that although a number of prominent evangelical leaders have condemned the idea of prosperity gospel, the research shows that "more than a few people in the pews have embraced it."
Although the numbers from the survey seem to suggest that evangelical churchgoers are being exposed to elements of prosperity theology in their churches, it can't be said for sure that those 41 percent of evangelical respondents are attending churches that have embraced the prosperity gospel.
"Most Americans don't know what the prosperity gospel is and I will go a step farther to say that most evangelicals don't know what the prosperity gospel is," Ryan Burge, a pastor and political science researcher at Eastern Illinois University, told The Christian Post. "If you ask them about prosperity gospel, the vast majority will have no idea what you are talking about but they will be able to name these pieces of it that they agree with and not understand that is part of something bigger."
Burge stated that while most people can answer questions asking if they agree or disagree with a certain statement, they wouldn't necessarily realize that a certain statement is part of a broader theological mindset.
"So they can answer those questions and say that 'If I give to the church, then God is going to bless me because God blesses generosity and He wants me to be generous," Burge said. "They wouldn't put that in the whole 'If you give to the church, you are going to get healed.' Or 'Buy this prayer cloth for $300 and God is going to give you a blessing.' There are shades prosperity gospel. There are some very nefarious ones like the TV preachers that say, 'Here is a prayer hanky for $300.' That is a very far end of it."
On the other end of the spectrum, Burge stressed, are the pastors who get up on a Sunday morning and simply state that "if you are a blessing to other people then God is going to bless you."
"That is much more benign and part of orthodox Christianity, not outside mainstream evangelicalism at all," Burge said.
Burge also noted that there is often a disconnect between what the pastors are saying at the pulpits and what the congregants in the pews are hearing.
"There is tons of literature about one of the questions academics in social science have been trying to figure out for a long time: How do pastors talk about politics. There is a huge disconnect between how much the pastors think they talk about politics and how much the congregation hears about politics," Burge said. "There are rhetorical tricks where you can talk about politics and not talk about politics. You can talk about prosperity theology and not necessarily name it and claim it but you are going to talk about it."
Although 69 percent of Protestants in the LifeWay survey said that they think God wants them to "prosper financially," only 28 percent of Baptists, 29 percent of Methodists and 34 percent of Pentecostals agreed that "to receive material blessings from God, I have to do something for God." While 54 percent of Protestants "strongly disagreed" with that statement, the LifeWay survey did not provide a breakdown for evangelical believers to this question. 
Burge did his own analysis of how Americans view prosperity theology in 2012, taking data from the 2012 General Social Survey conducted by the National Opinion Research Center at the University of Chicago.
Over 42 percent of respondents to that survey have zero inclinations to believe the prosperity gospel. In addition, about 7 in 10 Americans scored very low (0.25 or lower) on the prosperity scale — a scale that registers between 0 and 1.
"I see that 42 percent of Americans don't believe any of that stuff at all — they don't read the Bible for health or wealth or anything like that," Burge said. "A small percentage does. It looks like about 20 percent are between 0.5 to 1, which would be like the top of the [prosperity] scale."
Burge warned that the research shows that poor people were most likely to believe in the prosperity gospel than wealthy people.
"The mean prosperity score for people that made less than $10,000 per year was .42," he said. "The mean prosperity score for people that made over $150,000 was like 0.12."
If the LifeWay survey is an accurate reflection of the prosperity gospel landscape in churches, Burge said that it could be a sign that there is a bit of a Joel Osteen effect taking place within evangelical churches.
"Osteen has a huge reach. He is on TV [and has over 8 million Twitter followers.] Other pastors may watch him and go, 'Maybe, I should do that kind of stuff,'" Burge said, adding that African-American pastors may be influenced by prosperity preachers such as Creflo Dollar. "He kind of infects the local pastors and they preach that way at their local church and it kind of spreads like that."
Burge also reasoned that a prosperity gospel-like element might come into play when pastors are looking for ways to balance the church budget.
"There is a biblical justification for giving and being generous and not being too focused on keeping your money," Burge explained. "If a church wants to build a new gym or a new fellowship hall or a new building, all that stuff kind of ties into it and pastors will sort of exercise [that kind of thinking]. They have been doing it for years, even before prosperity gospel came around, because they needed to raise money to keep the church going or build a bigger church or whatever the reasons are."