400 US Troops to Deploy for 3-Year Training Mission to Help Syrian Rebels Defeat ISIS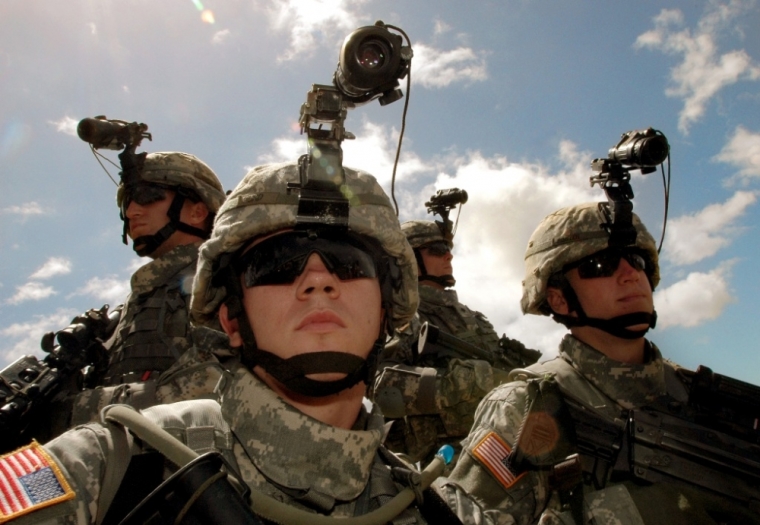 The Obama administration announced late Thursday that over 400 troops will be deployed to the Middle East this spring to train and equip rebel forces that are fighting the Islamic State terror group in Syria and Iraq.
As U.S.-led airstrikes continue to target Islamic State positions, the training program will be part of "Obama's multi-year plan to field local forces in Syria" to defeat the Islamic State, Reuters reports.
Along with the 400 troops, hundreds of U.S. support personnel will also be deployed to the region, a Pentagon spokesman said Thursday.
Col. Steve Warren told Reuters that while the Defense Department hasn't determined where it will be drawing its forces from for the training missions, they do expect that soldiers will be positioned at multiple site locations in Turkey, Qatar and Saudi Arabia.
The Pentagon has estimated that it can train 5,400 moderate Syrian rebels in the first year and up to 15,000 in three years, which will be needed to retake areas of eastern Syria controlled by the Islamic State, according to Defense One.
The disclosure of the planned troop deployment "comes amid frustration from critics arguing that the Obama administration has not moved faster to assist the floundering moderate forces inside Syria and growing recognition that the U.S.-led airstrike campaign against the Islamic State in Syria has not been effective," Defense One reports.
Earlier this week, U.S. senior officials met with members of the Syrian opposition in Istanbul, Turkey, where they briefed the Syrian opposition on the training missions that are expected to start as early as March at four site locations in six- to eight-week training intervals.
Army Maj. Gen. Michael Nagata, who oversees the Combined Joint Interagency Task Force, and Daniel Rubinstein, U.S. special envoy for Syria, led the meeting.
"These introductory meetings were an important step as we prepare to launch the train-and-equip program later this spring with our international partners," said Pentagon spokeswoman Commander Elissa Smith.
President Barack Obama has already authorized the deployment of 3,000 troops to Iraq, where over 2,000 are training Kurdish and Iraqi security forces.
"Training in Iraq has begun in areas including Taji, north of Baghdad, and al-Asad Air Base, in western Iraq," the Army Times reports.
While U.S. and coalition forces plan to undertake training missions throughout the Middle East to combat the Islamic State in Iraq and Syria, The Christian Post reported Friday that Islamic State militants are also now active in Afghanistan.
Officials in Afghanistan have confirmed that the Islamic State terrorist group is present and active in the country's southern region, flying its black flags, recruiting fighters and even fighting against forces from another radical Islamic extremist group, the Taliban.
General Mahmood Khan, deputy commander of the Afghan army's 215 corps, said that a numerous residents have attested that they have seen ISIS representatives actively recruiting fighters.
Saifullah Sanginwal, a tribal leader in the Sangin district, told The Times of London that not only are ISIS forces recruiting, they are also going around hoisting up their black flags and, in some instances, taking down flags belonging to the Taliban, another dangerous radical Islamic militia group.