LGBT discrimination, face mask mandate, DACA: 5 actions taken by Biden on his first day in office
DACA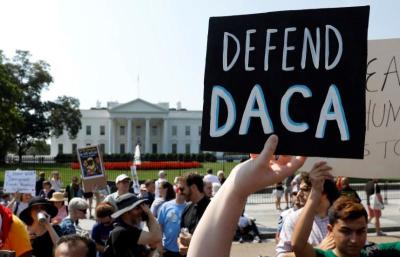 In a memorandum, Biden ordered that the Deferred Action for Childhood Arrivals (DACA) program be continued and strengthened, reversing the actions of his predecessor.
"DACA and associated regulations permit eligible individuals who pass a background check to request temporary relief from removal and to apply for temporary work permits," said the memo.
"DACA reflects a judgment that these immigrants should not be a priority for removal based on humanitarian concerns and other considerations, and that work authorization will enable them to support themselves and their families, and to contribute to our economy, while they remain."
The temporary DACA program was enacted in 2012 by the Obama administration to allow those who were brought into the country as children to apply for a temporary two-year status that authorizes them to work. The protection lasts for two years at a time and is renewable. 
The Trump administration announced in 2017 that it intended to end the program. Trump said at the time he planned to do away with the program to push Congress to come up with a legislative fix, but Congress did not act. 
In June 2020, the U.S. Supreme Court ruled that the Trump administration cannot end the temporary DACA program, as it had planned.
In the majority opinion, the high court concluded that while their ruling does not "decide whether DACA or its rescission are sound policies," it is rooted in whether the Department of Homeland Security "complied with the procedural requirement that it provide a reasoned explanation for its action."
"Here the agency failed to consider the conspicuous issues of whether to retain forbearance and what if anything to do about the hardship to DACA recipients," stated the opinion.
"That dual failure raises doubts about whether the agency appreciated the scope of its discretion or exercised that discretion in a reasonable manner. The appropriate recourse is therefore to remand to DHS so that it may consider the problem anew."