5 Gospel Music Stars Who Are Supporting Kim Burrell Amid Celebrity Backlash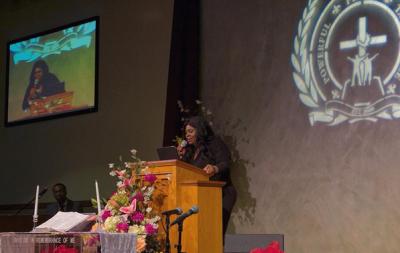 Gospel singer Kim Burrell was berated by a myriad of celebrities and LGBT activists last week for preaching on the "perverted homosexual spirit" during a sermon at her church ahead of the New Year. But now, a number of people in the gospel music industry are publicly defending and praying for the minister.
After Burrell's Dec. 30 sermon in which she called homosexuality a sin went viral last week, her invitation to be recognized by the BMI Trailblazers of Gospel Music Honors — along with fellow gospel singer and minister Marvin Sapp on Jan. 14 — was rescinded.
Aside from numerous people speaking out against Burrell on social media, including gospel music veteran Yolanda Adams, the 44-year-old pastor of Love & Liberty Fellowship Church in Houston, Texas, saw both her radio program on Texas Southern University's KTSU radio station and TV talk show, "Keep It Moving With Kim Burrell," canceled, according to the Houston Chronicle.
Despite the backlash, Burrell is receiving some support from a number of artists in the gospel music industry, including Tasha Cobbs, Jessica Reedy and William Murphy III.