National Guard screening, Airbnb cancellations: 5 heightened security measures for Biden's inauguration
National Guard deployment, screening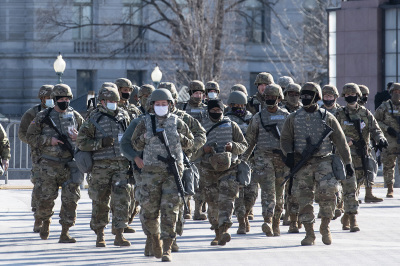 Approximately 25,000 National Guard soldiers have been deployed to Washington, D.C. to keep the peace in the capital city during the inauguration.
As an additional precaution, all of the National Guard personnel are being screened by the Federal Bureau of Investigation to make sure none have ties to violent extremists.
"We're continually going through the process, and taking second, third looks at every one of the individuals assigned to this operation," said Army Secretary Ryan McCarthy in an interview with The Associated Press.
"The question is, is that all of them? Are there others? We need to be conscious of it and we need to put all of the mechanisms in place to thoroughly vet these men and women who would support any operations like this."
Twelve members of the National Guard were sent home following the FBI's investigation, two for "inappropriate comments or texts related to the inauguration," and the other 10 for "potential issues that may involve previous criminal activity not directly related to the inaugural event," NBC Washington reported Tuesday. The FBI found no threats to Biden. 
In response to the vetting of the guard members, 1,000 of whom were from Texas, Gov. Greg Abbott said Monday that "No one should ever question the loyalty or professionalism of the Texas National Guard." He vowed not to send troops from Texas again if they are "disrespected."