Weather Underground bombing, Puerto Rican nationalists: 5 other times the US Capitol was attacked
1983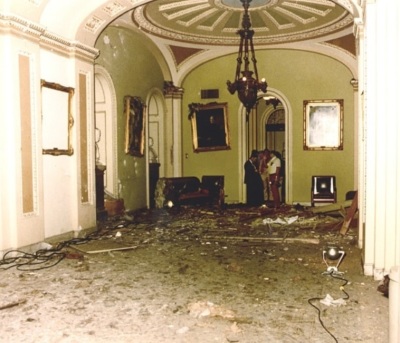 In the late evening of Nov. 7, 1983, a domestic terrorist group calling themselves the Armed Resistance Unit set off a bomb under a bench outside the Senate chamber.
At issue was U.S. interventions in Grenada and Lebanon. The group also set off bombs at the Washington Navy Yard and Fort McNair.
In 1988, according to Politico, federal agents arrested seven people in connection to the acts:  Marilyn Jean Buck, Linda Sue Evans, Susan Rosenberg, Timothy Blunk, Alan Berkman, Laura Whitehorn and Elizabeth Ann Duke.
"On Dec. 7, 1990, U.S. District Court Judge Harold H. Greene sentenced Whitehorn and Evans to lengthy prison terms for conspiracy and malicious destruction of government property," wrote Andrew Glass of Politico.
"Whitehorn was sentenced to 20 years; Evans, to five years, to be served concurrently with 35 years for having illegally bought guns. On Aug. 6, 1999, Whitehorn was released on parole after serving just over 14 years. On Jan. 20, 2001, his final day in office, President Bill Clinton commuted Evans' sentence to time served."
Rosenberg, who served 16 years for her involvement in the attack, later became vice-chair of the board of directors for a group called Thousand Currents, which for many years performed fundraising and administrative work for the Black Lives Matter Global Network Project.