5 Wheaton College Football Players Charged With Felonies After Brutal Hazing of Teammate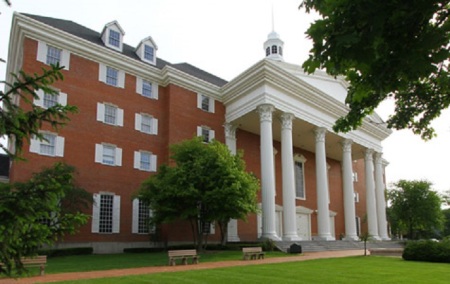 Five Wheaton College football players are facing felony charges after they were accused of assaulting a teammate in a 2016 hazing incident that allegedly left the victim stranded while half-naked with two torn shoulders.
The Illinois-based conservative evangelical college released a statement following the issuance of arrest warrants for five of its Division III football players this week, saying: "The conduct we discovered as a result of our investigation into this incident was entirely unacceptable and inconsistent with the values we share as human beings and as members of an academic community that espouses to live according to our Community Covenant."
"We are profoundly saddened that any member of our community could be mistreated in any way. This incident has prompted our Board of Trustees to engage outside experts to lead a campus-wide review of the level of effectiveness of our anti-hazing policy and of the culture around how students treat one another in our campus communities, athletic teams, and organizations. Wheaton remains committed to providing Christ-centered development programs and training to all our students."
The five student athletes have been accused of engaging in the malicious hazing of a former freshman teammate in 2016 in which the victim was restrained with duct tape, beaten and left half-naked on a baseball field, The Chicago Tribune reported.
The athletes that have been charged with with aggravated battery, mob action and unlawful restraint are second-team All-American center Kyler Kregel, defensive lineman James Cooksey, offensive lineman Benjamin Pettway, defensive lineman Noah Spielman and linebacker Samuel TeBos.
All five men have been given a week to turn themselves into authorities. All five men are still listed on the Thunder roster, as of Tuesday afternoon.
The school will not say what disciplinary measures were taken after it found out about the incident last year.
"When this incident was brought to our attention by other members of the football team and coaching staff in March 2016, the College took swift action to initiate a thorough investigation. Our internal investigation into the incident, and our engagement with an independent, third-party investigator retained by the College, resulted in a range of corrective actions," the college said in its statement. "We are unable to share details on these disciplinary measures due to federal student privacy protections."
Wheaton College added that the school fully cooperated with the police investigation and stressed that the college had good reason to withhold from publicly addressing the situation.
"To not impede the law enforcement investigation, the College was bound by confidentiality and unable to share more information until now."
Wheaton College revised its anti-hazing policy in 2014, which requires a "formal review" of the policy every year with its students.
"Despite these deeply troubling charges, we have experienced positive changes on campus, including rapid responses from campus leaders to reports of hazing or other inappropriate behavior and effective disciplinary review," the college concluded.
The victim, whose name has not been published by the Chicago Tribune, told investigators that he was just watching television in his dorm room on March 19, 2016, when his teammates barged in and tackled him. Although the victim tried to kick away the attackers, they allegedly punched him and wrapped his legs and arms in duct tape.
The attackers put a pillowcase over his head and led him out of the dorm and into a car, where he was held down by at least two players. According to the Chicago Tribune, the victim alleged that his abductors joked that he had been kidnapped by Muslims who wanted to rape him. The victim also alleged that the attackers pulled down his shorts and tried to insert an object into his rectum. The victim was later beaten and dumped on a baseball field in 45 degree weather.
Later, another player was dumped on the field in similar fashion. The victim said that the two of them were found by classmates who came looking for the second player.
According to the Chicago Tribune, the victim drove himself to a hospital after getting back to the dorm, where he was diagnosed with muscle tears in both shoulders. He later needed surgeries to repair his shoulders.
The victim said in a statement given to the Chicago Tribune that the hazing incident has had a major impact on his life. He has since left Wheaton College.
"This has had a devastating effect on my life," the victim said. "What was done to me should never occur in connection with a football program or any other activity. ... I am confident that the criminal prosecution will provide a fair and just punishment to the men who attacked me."
Although Wheaton didn't publicly disclose the disciplinary measures it used to punish the accused football players, sources told the Tribune that the men were required to perform 50 hours of community service and also write eight-page reflections on their actions.
It is unclear if the players were ever suspended from the team. Additionally, their status on the team after the issuance of the felony charges remains unknown. The Chicago Tribune noted that three of the players played in last Saturday's game.
This is not the first time the Wheaton football team has made headlines.
In 2015, Wheaton football players participated in a parody of a Martin Lawrence and Will Smith film "Bad Boys II" in which they dressed up like Klu Klux Klan members and carried confederate flags. Although the skit was only supposed to be a joke, it still angered many in the college community and required the school's president to address the matter.