6 Interesting Facts About Mike Huckabee's Christian Faith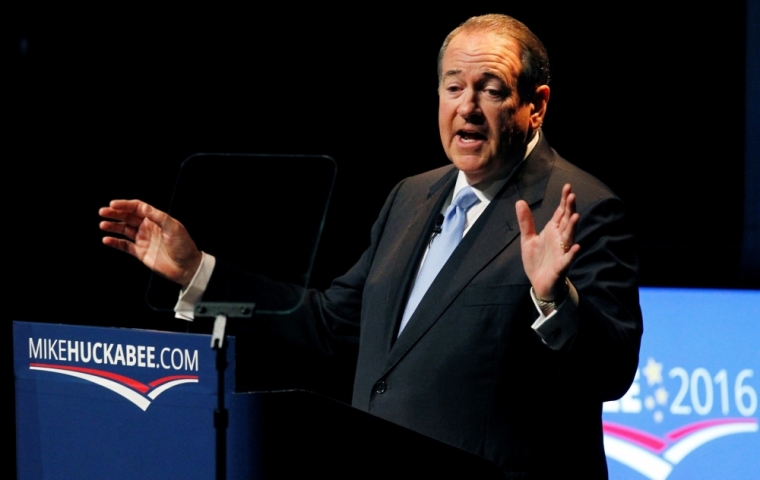 Mike Huckabee was a Southern Baptist minister before entering the politics and running for president in 2008. Now, he is running again and clinging to his conservative values to help him win the coveted office. Here are six facts about his faith that readers should know.
1. He is a staunch defender of Christian values and traditional marriage.
"This is not just a political issue. It is a biblical issue," Huckabee said during an appearance on CNN's "State of the Union" in February 2015. "And as a biblical issue — unless I get a new version of the Scriptures, it's really not my place to say, 'OK, I'm just going to evolve.' It's like asking someone who's Jewish to start serving bacon-wrapped shrimp in their deli. We don't want to do that — I mean, we're not going to do that. Or like asking a Muslim to serve up something that is offensive to him, or to have dogs in his backyard. We're so sensitive to make sure we don't offend certain religions, but then we act like Christians can't have the convictions that they've had for 2,000 years."
2. The Duggar family from TLC's "19 Kids and Counting" has fully endorsed Huckabee.
"America needs Governor Huckabee for president!" patriarch Jim Bob Duggar wrote on the family's Facebook page. "I am so very pleased to endorse him. As a former Arkansas state representative I served alongside Governor Mike Huckabee and saw firsthand his incredible bi-partisan leadership. Importantly, he is a man of faith who is very wise and will help get our nation back on track. Simply, he's a leader who will bring the moral clarity we need in the White House."
3. He is adamantly opposed to abortion and has said it is worse than the Holocaust.
"If you felt something incredibly powerful at Auschwitz and Birkenau over the 11 million killed worldwide and the 1.5. million killed on those grounds, cannot we feel something extraordinary about 55 million murdered in our own country in the wombs of their mothers? … Our pulpits were silent and forgot and failed to teach that every human life has value and worth and there's no such thing as a disposable, expendable human being, that all of us are created equal. Even our Constitution, our Founders, acknowledge that, and our Bible affirms it. And our failure to speak it because it was a political issue will cause us one day to stand before a holy God with blood on our hands and explain why we did not cry out against that slaughter of 55 million," Huckabee said in a 2014 speech.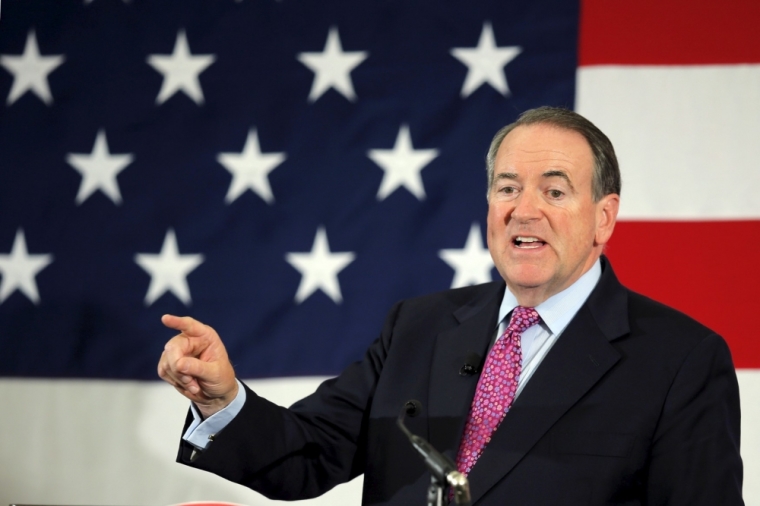 4. Even though he is deeply rooted in the Christian faith, he has respect for those of different traditions as well as those who do not belong to any tradition.
"It was never my desire to use my position to push a particular religious doctrine through the official channels of government," Huckabee wrote in his book Do the Right Thing (2008). "Spiritual convictions should certainly be reflected in one's worldview, approaches to problems, and perspective. An atheist who believes that we are on our own and that our only true God is the natural world might be more protective of bugs, plants, and animals than one who believes that God created all these things for us to manage, care for, and even use in a responsible manner."
5. He believes America's greatness is due to God's guidance.
"I learned that God loves me as much as He loves anyone. But he doesn't love some more than others. I learned the Pledge of Allegiance, the Lord's Prayer, and the Preamble of the Constitution. We prayed at the start of each day and we prayed again before lunch. And I learned that this exceptional country could only be explained by the providence of Almighty God," he said at the announcement of his 2016 presidential campaign.
6. He believes that the U.S. is headed down a road that could criminalize Christianity.
"We are living in perilous times where people who are Christian are on the brink of being criminalized for their convictions," Huckabee said in a speech at the National Hispanic Christian Leadership Conference annual conference. "You are told that if you continue to hold to your Christian witness and belief that you ought to be put out of business, that you are going to be fined, you are going to be punished."
Huckabee had previously made a similar point on a phone call with Family Research Council.
"If the courts rule that people have a civil right not only to be a homosexual but a civil right to have a homosexual marriage, then a homosexual couple coming to a pastor who believes in biblical marriage who says 'I can't perform that wedding' will now be breaking the law," he explained. "Let me make clear: It's not just saying, I'm sorry you have a preference.' No, you will be breaking the law subject to civil, for sure, and possibly criminal penalties for violating the law, depending on how the law is written in communities, states, and in the nation. Once the courts have been allowed to run over us and nobody stands up for us in the other two branches of government, then God help us all."