7 Christian Leaders' Reactions to Nashville Statement on Human Sexuality, Identity
Christians United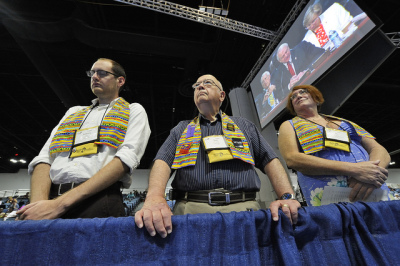 In response to the Nashville Statement, a coalition of theologically liberal church leaders wrote up their own declaration demanding support for both LGBT individuals and their relationships.
Known as Christians United, as of Sunday their website boasts approximately 2,500 signatories from across the country and from multiple denominations.
Notable signatories include Rachel Held Evans, Christians United organizer the Rev. Brandan Robertson, and the Rev. Teresa "Terri" Hord Owens, president of the Disciples of Christ denomination.
"In the twenty-first century, we believe that the Church finds itself once again on the brink of a new reformation, one which in which the Holy Spirit is calling us to return to the Scriptures and our traditions in order to re-examine our teachings on human sexuality and gender identity," stated the Preamble.
"A new day is dawning in the Church, and all Christians are being called to step out boldly and unapologetically in affirmation and celebration of our LGBT+ siblings as equal participants in the Kingdom of God."