7 Trump Actions Evangelicals Did Not Like
1. Charlottesville response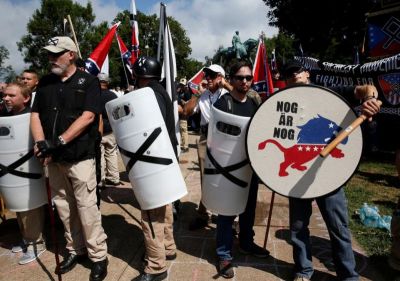 Trump was criticized by many Americans in August for his response to the Unite the Right white nationalist rally in Charlottesville, Virginia that saw at least one counter-demonstrator killed in a vehicle ramming attack carried out by a man linked to a white supremacist organization.
Many felt that Trump's original statement on the Charlottesville violence did not do enough to specifically call out the ideology of white supremacists and white nationalists. Although Trump later condemned racist ideologies and white supremacy, he would again stir the pot, stating in an exchange with reporters in New York City that there were "very fine people" on "both sides" in Charlottesville and there were "two sides to the story."
A coalition of evangelical leaders that included Southern Baptist ethicist Russell Moore, Bishop T.D. Jakes, Tony Evans, and Samuel Rodriguez, president of the National Hispanic Leadership Conference, signed a statement calling on Trump to directly condemn the alt-right movement.
"We believe it is important for this movement to be addressed, for at its core it is a white identity movement and the majority of its members are white nationalists or white supremacists," the letter states. "This movement gained public prominence during your candidacy for President of the United States. Supporters of the movement have claimed that you share their vision for our country. These same supporters have sought to use the political and cultural concerns of people of goodwill for their prejudiced political agendas. It concerned many of us when three people associated with the alt-right movement were given jobs in the White House."
In a blog post, Denny Burk, a professor of biblical studies at Boyce College, the undergraduate school of the the Southern Baptist Theological Seminary in Louisville, Kentucky, criticized the president for failing to show "moral clarity" in his response to Charlottesville.
"Today, President Trump addressed the nation in a press conference in which he said that the white supremacist protestors were 'very fine people,'" Burk posted in an update on Aug. 15. "His full remarks were more than disappointing. They were morally bankrupt and completely unacceptable. People who protest while chanting Nazi slogans are not 'very fine people.'"
The Christian Post editors also posted an editorial calling for Trump to condemn white supremacy.