7 Trump Actions Evangelicals Did Not Like
3. Rescinding DACA/DAPA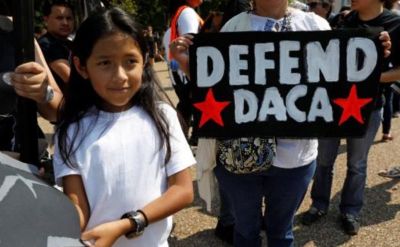 Evangelical leaders spoke out against Trump after he ended programs that offered immigrants brought to the United States illegally as children with deferred action from deportation and also offered deferred deportation to parents of lawfully-born American citizens.
In June, the Trump administration rescinded a 2014 Obama-era memoranda that created the Deferred Action for Parents of Americans and Lawful Permanent Residents (DAPA) program.
"Today, we received the unfortunate news that DHS Secretary John Kelly, after consulting Attorney General Jeff Sessions, has rescinded the Obama-era memoranda known as DAPA, which provided protection from deportation for parents of U.S. citizens and lawful permanent residents," NHCLC's Samuel Rodriguez said in a statement at the time. "While DREAMers remain protected under DACA, it is of little comfort to children whose parents are now at risk of being deported from this country."
Just days before the Trump administration rescinded the Obama-era Deferred Action for Childhood Arrivals program in September, a number of evangelical leaders signed a letter calling on Trump to save the DACA program.
Signatories of that letter included Rodriguez, leading Southern Baptist ethicist Russell Moore and National Association of Evangelicals President Leith Anderson.
"We carry particular concern for the future of these dreamers because they have much to offer America. They were brought here without their consent, and in most cases the U.S. is the only home they have known," the letter to Trump reads. "We know that these young people who stepped forward in good faith are not threats to America. By enrolling in DACA, they already have submitted to screening for criminal activity and potential threats to national security."