7 Trump Actions Evangelicals Did Not Like
7. Sessions' criminal sentencing memo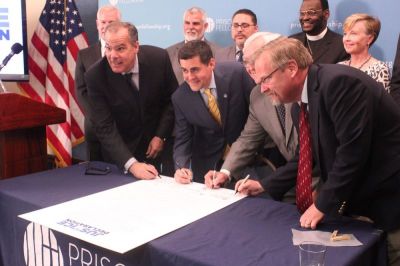 In May, Attorney General Jeff Sessions issued a memo to federal prosecutors that, critics say, rolled back some positive Obama-era criminal justice reforms. 
The Obama policies instructed prosecutors to avoid charging non-violent drug offenders with crimes that have a mandatory minimum sentence, so long as the offender met certain criteria.
The Sessions memo instructed prosecutors to "charge and pursue the most serious, readily provable offense."
Pat Nolan, the director of the American Conservative Union Foundation's Center for Criminal Justice Reform who formerly served with Chuck Colson and Prison Fellowship, told CP in May that he thought Sessions' memo was a bit "misguided."
"I admire [Sessions] a lot and I have worked with him on several pieces of legislation that are very good. But in this case, I think it's misguided," Nolan said. "It will discourage efforts that prosecutors have been doing successfully in recent years to get the low-level people into treatment. It is proven effective and prison is proven ineffective."
About a month after Sessions issued the memo, evangelical leaders signed the "Justice Declaration" at a press conference in Washington D.C.
The declaration, which urged Christians to unite in response to the nation's "misguided" crime policies, was organized by groups such as Prison Fellowship, the Colson Center for Christian Worldview, the Southern Baptist Convention's Ethics & Religious Liberty Commission, and the National Association of Evangelicals.
At the press conference the leaders were asked about Session's memo and mandatory minimums.
"We do not believe in a system that has mandatory sentencing," Prison Fellowship President James Ackerman said. "We believe it removes from the judge the ability to do her or his job, which is to judge and consider the person in front of them — whether the person has repented for what they have done or whether they have taken steps to put themselves on the right path — and give them a sentence that is proportionate that the judge believes will ... lead that person to behavior that is restorative and positive for the community."
"So we do not support mandatory sentences and we think they are a big mistake," he asserted, later adding that Prison Fellowship supports sentencing guidelines, just not mandatory sentences.