8 Wisconsin nuns die of COVID-19 within a week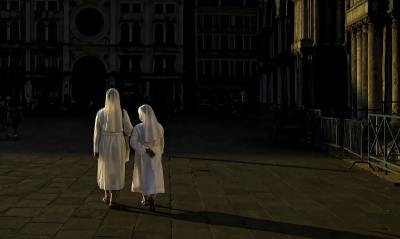 Eight Roman Catholic nuns, who were in their 80s and 90s and had over half a millennium of combined service to the community, died from COVID-19 despite being "extra careful" at a Wisconsin retirement home in a week, according to reports.
The Sisters, who were from Notre Dame of Elm Grove, about eight miles west of Milwaukee, died from complications caused by the coronavirus between Dec. 9 and Dec. 16, according to TMJ4.
"The Sisters, we're being extra careful in terms of getting their meals in rooms and they can't congregate together," Sister Debra Sciano, provincial leader of the School Sisters of Notre Dame Central Pacific Province, was quoted as saying. "More testing, being tested twice a week for the virus."
The deceased sisters were identified as Sister Mary Elva Weisner, Sister Mary Alexius Portz, Sister Rose Feess, Sister Cynthia Borman, Sister Dorothy MacIntyre, Sister Joan Emily Kaul, Sister Michael Marie Laux, and Sister Lillia Langreck — who were educators, music teachers and liturgists, according to The New York Times.
Sciano said the deaths left the community "heartbroken." "Every one of our sisters is really important. Not only to us, but we feel they have touched thousands of lives we'll never be aware of," she added. "They're wonderful women. They are mentors and wisdom figures for me and so many of us."
Sciano told the Times that on Thanksgiving Day, one nun tested positive and was separated from the rest. When others started to become sick, the group was cared for in one wing. "Right after that, we began testing twice a week," she added.
There are 88 other Sisters at Notre Dame of Elm Grove.
Before the outbreak, six nuns at Our Lady of Angels Convent in Greenfield, about 10 miles from Notre Dame of Elm Grove, died from COVID-19 in less than a month.
In July, 13 religious sisters, who ranged in age from 69 to 99 and who lived, prayed and worked together at a Michigan convent, died in a matter of weeks.
"I get chills thinking about that," Sr. Mary Andrew Budinski, the superior of the Presentation of the Blessed Virgin Mary convent in Livonia, said at the time. "The raw grief is yet to come, I think."
Between Good Friday on April 10 and May 10, 12 of the sisters died after battling the coronavirus. Then on June 27, one of 18 other sisters who initially survived the illness died from its effects to become the 13th fatality.
The Global Sisters Report, which is a nonprofit project of the National Catholic Reporter publishing company, said all of the women who died were members of the Congregation of the Sisters of St. Felix of Cantalice, or Felician Sisters.