$800K Donated to Christian 'Memories Pizza' Owner Forced to Shutter Shop for Opposing Gay Marriage, Says God Blessed Her for 'Standing Up'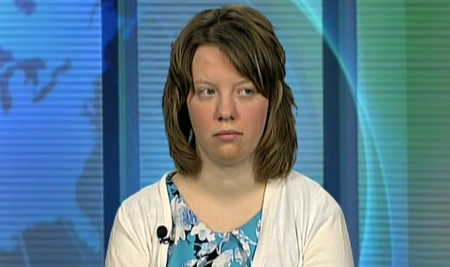 More than $800,000 has been raised online for a Christian pizzeria owner from Indiana who was forced to shutter her shop after being attacked by LGBT advocates for saying she would not provide catering services for a gay wedding and she says the money is God's way of blessing her for "standing up."
Crystal O'Connor, owner of Memories Pizza in Walkerton, who told a local news reporter that her shop would not cater gay weddings, reiterated her opposition to the idea citing her Christian faith in an interview with the FOX Business Network Friday despite vitriolic threats against her and her business from LGBT advocates.
"It is not a sin that we bring gays into our establishment, and to serve them. It is a sin, though, if we condone," she said. "If we cater their wedding. We feel we are participating, we are putting a stamp of approval on their wedding, and we cannot do that."
Gay advocates who learned of O'Connor's comments after they were infused into the controversy over Indiana's Religious Freedom Restoration Act signed into law by Republican Governor Mike Pence two Thursdays ago, despite them being made prior to the law becoming effective.
Impressed by her decision to stand up for her Christian beliefs, more than 26,000 public supporters of O'Connor flocked to donate to a gofundme campaign page that was set up online on April 1 to raise $200,000 to offset the loss of business. As of Monday, donations had reached more than $840,000.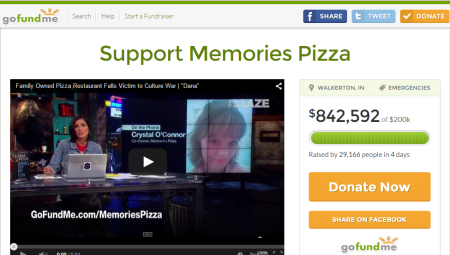 When asked about the donations by FOX's Neil Cavuto, O'Connor told him: "God has blessed us for standing up for what we believe, and not denying him."
Dana Loesch, a conservative talk radio host who initiated the gofundme campaign along with her staff, revealed on her Twitter page that the transfer of the money would be made to the O'Connors on Monday.
The stoic woman who owns the pizzeria with her father, Kevin O'Connor, revealed that she has no clear date on when she will be reopening the shop but explains that she intends to get back in business soon.
"We have decided that we will reopen again," she told FOX Business. "I am still shaken over this, and I will be the one that's serving the customers and answering phones and I'm not ready to face that yet."
Indiana's RFRA, like the federal RFRA, says the government cannot "substantially burden" a person's ability to follow their religious beliefs, unless it can prove a compelling interest in imposing that burden and it does so in the least restrictive way. Supporters of the law say it will prevent the government from unduly infringing on a person's ability to exercise their religious beliefs. Critics of the legislation say, however, that it legitimizes discrimination against LGBT individuals by businesses.