9-Y-O Boy Fights Off 400lb Alligator and Miraculously Escapes; 'I Just Thank God It Didn't Turn Out Different,' Says His Father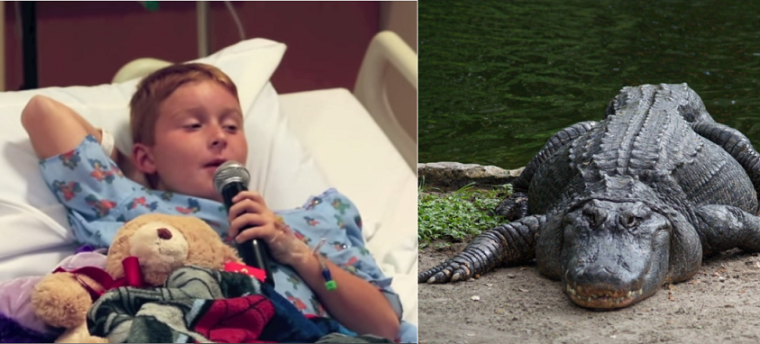 A 9-year-old Florida boy is the talk of the nation after he fought off a 400 pound, 9-foot long alligator with his bare hands and miraculously escaped with only minor injuries after it tried to make a meal of him last Thursday.
Recounting the dramatic episode to reporters from his hospital bed during a press conference at Arnold Palmer Hospital in Orlando Friday, James Barney Jr., 9, explained how he managed to beat the hungry reptile while swimming in a restricted area of Lake Tohopekaliga in Florida.
"It really amazed me what happened. At first I thought someone was just playing with me and I didn't know what happened," said James.
"I reached down to go grab it and I felt its jaw — I felt its teeth and I didn't know what to do, so I immediately reacted and hit a couple of times. And then finally I had enough strength left to pry its jaw open a little," he added.
James said when the giant alligator finally let go of him, he swam to shore while yelling for help.
Dr. Ross Palmer said the alligator bit James several times and it appeared to have tried to get a good grip on the boy.
"It bit his leg, his backside, his abdomen. He's got about 30 different teeth marks of varying degrees and several that are the scratch marks of the claws," said Palmer.
James said doctors also pulled out a tooth left behind by the alligator and he asked them to let him put it on a necklace so he could tell all his friends.
His father, James Barney Sr., said: "I was in shock. With James, anything is possible. He's a very active boy. I just thank God it didn't turn out to be different."
"I don't take it for granted. Yesterday morning someone sent me a text saying that we should count our blessings, immaterial and material," he said. "I realized I coulda' lost him yesterday," he added, holding his son's hand.