98-y-o creator of 'The Girl Who Believes in Miracles' says his life is proof 'miracles happen'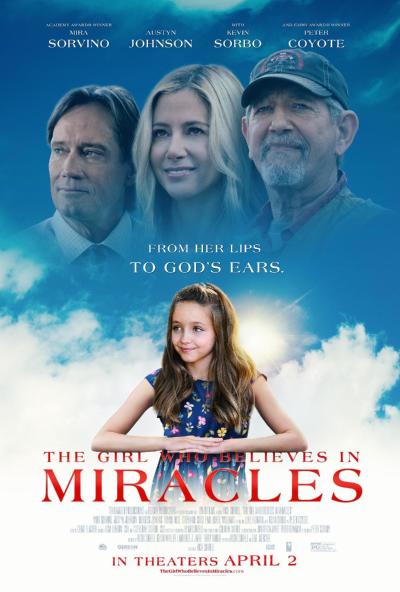 The new faith-based movie "The Girl Who Believes in Miracles" highlights the miracle-working power of God, and 98-year-old Laurence Jaffe, the creator of the film, says he is proof that miracles do happen.
"It's sort of like a miracle," Jaffe said of the release of his new movie in an interview with The Christian Post.
The nonagenarian, who decided to start a new career as a filmmaker much later in life, revealed that several things came into place to bring the film to audiences.
Jaffe credited director Rich Correll in helping to pull everything together, including finances and an A-list cast.
The feature film brought together a star-studded cast, including Oscar winner Mira Sorvino, Emmy Award-winner Peter Coyote and "God's Not Dead" actor Kevin Sorbo.
"When Sara hears a preacher say faith can move mountains, she starts praying," the film's synopsis reads. "Suddenly, people in her town are mysteriously healed! But fame soon takes its toll — can Sara's family save her before it's too late?"
"The Girl Who Believes in Miracles" is loaded with faith-filled content as viewers are challenged to tap into childlike faith and believe God for the impossible. Jaffe, who joined the Marine Corps during World War II, said he himself believes in miracles.
"There was a time when I was in the service, in the Marine Corps, when a couple of things happened where I was in the wrong place at the wrong time," he explained. "I was walking on a railroad track and I didn't know that trains [still] came on it ... all of a sudden, a force came along, picked me up, and put me on the platform.
"Seconds later, an express train came down the same track I was walking on. So the fact that I'm here ... is a miracle."
The 98-year-old filmmaker, whose wife of 72 years passed in October 2020, said he's believed in miracles ever since his life was saved decades ago.
"Up until the time that miracle occurred with me, I was a man of faith, and I happen to have a belief in God [by] just my faith, I had no proof," Jaffe explained. "But then, when this miracle happened and my life was saved, I had a fact." 
"So now, I not only have faith, that's just based on belief. But it's based on an actual fact that I do believe that miracles still happen!" he continued. "Just think of this, our bodies are miracles. So we know it's happening all the time."
The trailer for "The Girl Who Believes in Miracles" shows a young girl named Sara praying for several dead animals to come back to life. She's also seen praying for a lame boy to walk and for a girl to be cured of cancer. 
"This happens to be an uplifting movie and anything to make people feel good now is so very critical," Jaffe added. "They should really flock out to see it, to feel good about life and about themselves. We've been through a very, very tough year and now we'd like to see people feeling good again."
He encouraged people to pray, saying that just like the movie aims to bring encouragement, prayer does too.  
"I happen to be a man of faith," he said. "Prayer makes the person who's praying feel good."
Jaffe also hopes to use the money generated from the film to help the poor through a program he created to help disadvantaged children in Gainesville, Florida. 
"My ultimate goal in life — I hope to live long enough — is to try to see if I can help people who are living in poverty, or in disadvantaged communities," he told CP.
And despite his age, Jaffe said he intends to continue making films. 
"[With] this movie, [and] we have some other movies that will follow it, I'm hoping they will get me enough money so I'll be able to help people who need it," he stressed.
The Christian movie premiered in theaters nationwide on Easter weekend. It is now available to stream across all platforms.