A Box, Abandoned Babies and the Boy Who Got Saved, or How God Used a Broken Rich Kid From California to Preserve the Legacy of a Pastor in Korea
South Korean Pastor Lee Jong-rak's Drop Box for Abandoned Newborns Winds Up Saving Eager US Filmmaker
Brian Ivie, a 24-year-old filmmaker from Orange County, California, set out three years ago to South Korea to make the film to end all films. Fortunately for him, that didn't work out. Instead, he encountered the man he now calls his spiritual father — and became a curator of this man's powerful and profound story of sacrifice and love.
Ivie, eager and working from a script set in his mind of how things would certainly go, set out on Dec. 15, 2011, for Seoul, South Korea, with a crew of 11 (mostly friends and his younger brother, Kevin) after a simple email exchange with Pastor Lee Jong-rak.
The story that catapulted Ivie on his path was a 2011 feature about a South Korean pastor's drop box for abandoned babies published in the Los Angeles Times:
One is deaf, blind and paralyzed; another has a tiny misshapen head. There's a baby with Down syndrome, another with cerebral palsy, still another who is quadriplegic, with permanent brain damage.

But to Pastor Lee Jong-rak, they are all perfect. And they have found a home here at the ad hoc orphanage he runs with his wife and small staff. It is the only private center for disabled children in South Korea.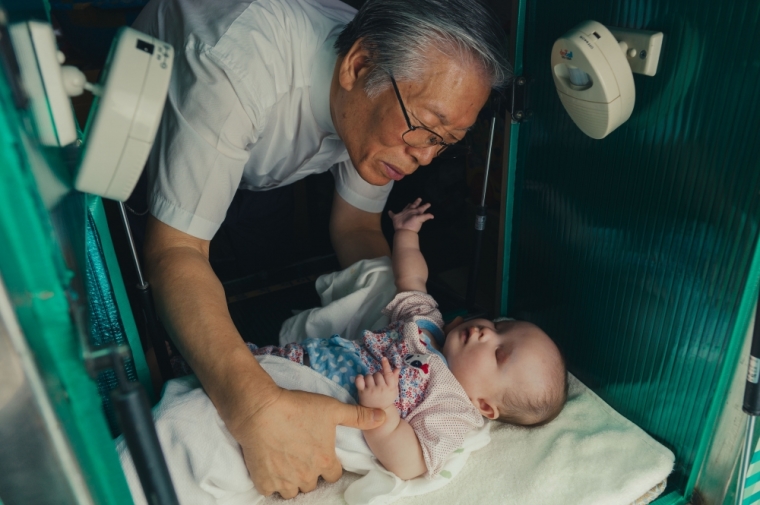 Then there was the "desperate, albeit well-meaning Kickstarter campaign" to crowdfund financing for the film project Ivie was sure would earn him an invitation to the Sundance Film Festival and position him as a film phenom.
Ivie's Kickstarter campaign remains online, having collected $20,640 from 184 backers by Oct. 30, 2011, just two months before he boarded his first flight to South Korea.
"I remember when I read the article about him, I was instantly inspired: 'South Korean pastor's unwanted flock.' And then I thought, well this is on the front page of the L.A. Times today, but tomorrow nobody's gonna care. It was a calling. It was a command. In that moment, I knew I had to go to Korea to shoot a documentary film so the story, so the story wouldn't die," Ivie says in his video pitch for funding.
In the same video, even before meeting Pastor Lee, Ivie says, "This man changed my life from 6,000 miles away."
It would turn out that Ivie was telling the truth — although he changed in ways he had not been expecting.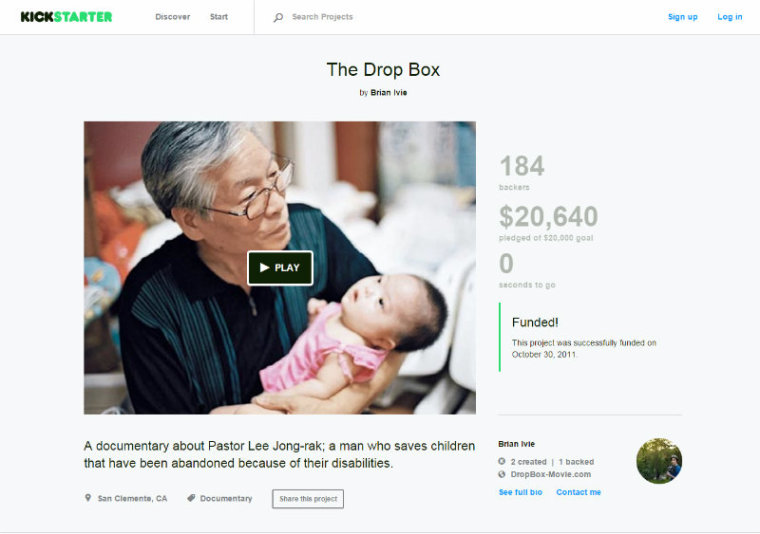 Convinced in the beginning that he was a Christian, because well, he grew up in America, "didn't smoke cigarettes … went to Mass … and watched Fox News," in the end Ivie found himself writing three letters to his father and two father figures who taught him the true meaning of the word. There was a Mark Driscoll sermon, too.
Those three letters appear at the end of the book that Ivie wrote with the help of Ted Kluck, The Drop Box: How 500 Abandoned Babies, an Act of Compassion, and a Movie Changed My Life Forever.
In the book, Ivie, once a self-described Pharisee of film who worshipped the art form as his idol, delves into the journey that changed his life. In a behind-the-scenes look at the filmmaking process, Ivie tells how witnessing the love of Lee and his wife, Chun-ja, for children born with challenging disabilities prompted him to abandon any pretensions of fame, and compelled him to simply tell an important story.
Here is an excerpt from the letter Ivie addressed to Pastor Lee:
Pastor Lee, thank you for showing me your life before God, so I could finally understand where all the love came from. Where all the courage came from. Thank you for never taking the glory, even when you stay up all night and destroy your own body to save the cold, little ones that might be left outside.

And thank you for continuing to get up every time the bell rings.
In his letter to God, Ivie writes:
Making 'The Drop Box' was the hardest thing I've ever done. I felt inadequate most of the time, like a complete failure other times, and at night wished it could stop.

God, making this thing felt like being dragged behind a chariot. It felt like scales were being ripped off of me … Making this movie went against all the childish things in me. … It force me to grow up. … Yet, I've also somehow become a child again. People think that means being naive and dumb, but I think it has a lot more to do with feeling helpless. It has a lot more to do with realizing just how weak and helpless I can be and how I need You even more than those children need pastor Lee.
"The Drop Box" book was released March 1, and adds a few extra layers to the documentary, which focuses fully on the Lees and the volunteers that have helped them care for the hundreds of babies left at their home. Government employees, social workers, law enforcement officials, and members of Pastor Lee's Jusarang (or "God's Love") Community Church also appear on camera. They all try to explain why married couples, unwed teen girls, and others would abandon their babies, usually born with some sort of disability, on other people's doorsteps, in an alleyway, or in Pastor Lee's drop box. The answers are complex, honest and sad. There are laws and social services in place that should protect children and provide assistance to parents, but the stigma leveled at unwed mothers and children with disabilities sometimes proves a challenge to doing the more difficult thing — keeping their baby.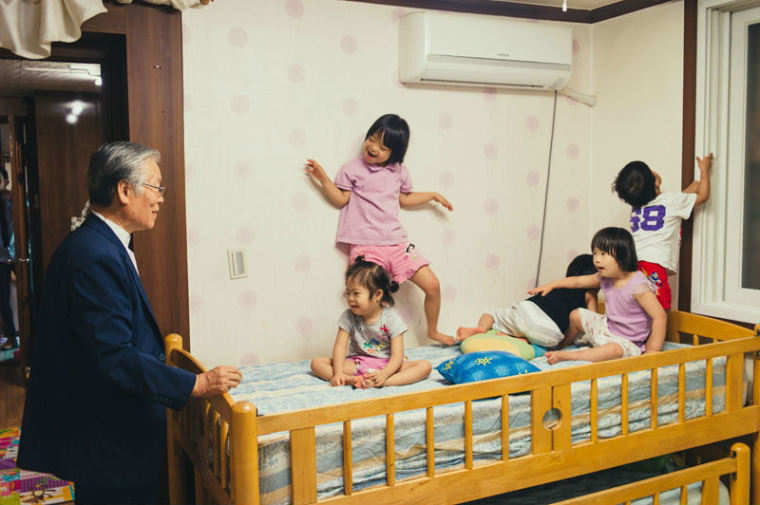 Pastor Lee, 60, doesn't want a reward, he explains in the film.
What God has taught him through caring for his own 20-something son, Eun-man, dubbed the "boy on his back" because a severe disability has kept him bed-ridden for much of his life, has been reward enough. The L.A. Times reports that "when Eun-man was 6, Lee entered theology school to become a Christian minister."
It was the experience of learning to love and accept a son who needs full-time care as a blessing from God that partly inspired Lee in 2009 to build a baby box, install it on the side of his three-story home, and personally embrace nearly two dozen abandoned children as his own.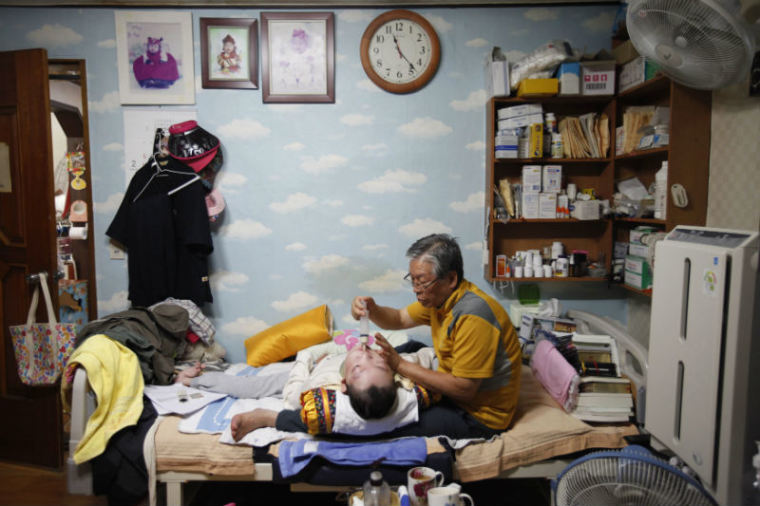 Inscribed above the drop box is Psalm 27:10 — "For my father and my mother have forsaken me, but the LORD will take me in."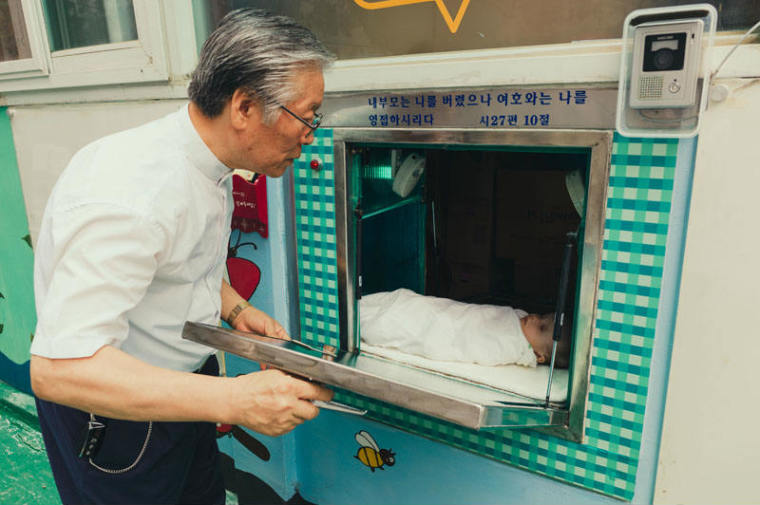 Watch a trailer for "The Drop Box" in the video player below.
"This Book Is a Song for the Suburbs"
"The Drop Box" feature-length documentary earned Ivie and his team a $101,000 cash prize at the 2013 San Antonio Independent Christian Film Festival.
Ivie told The Christian Post the week "The Drop Box" debuted nationally for a three-day run (March 3-5) in select theaters that he "immediately" gave half of the prize money to Lee.
The 24-year-old born-again Christian used the remaining half to start Kindred Image in 2013. The nonprofit supports Pastor Lee and his wife's work with abandoned children, as well as various other causes.
As for his testimony in The Drop Box book, Ivie hopes it speaks to other suburban sinners who God wants to turn into saints.
Ivie explains what he means in the below Q&A. It was conducted via phone and has been edited for clarity.
CP: Today is the final day that "The Drop Box" is screening. Have you paid attention at all to how it's been doing?
Ivie: Yeah, it's been doing really really well. I don't know the numbers from last night but I know we're definitely heading toward 200,000 tickets sold which is pretty darn good for a [intelligible] release.
CP: What do you make of the responses to the film?
Ivie: The response has been overwhelmingly good. I think for people seeing a movie like this that is able to grapple with a lot of pain, present hope founded in Jesus Christ and yet somehow also create some sort of atmosphere where everybody feels like they can come see this movie and be a part of it, I think is really rare. You know, it's not a movie that in anyway alienates one particular group of people or another. So I've been excited with the response. It just seems like people from all different backgrounds and belief systems have come out and supported the film because it shows us that we all matter and that life is not just blind to [intelligible] indifference and that there's meaning and value to everyone's story.
CP: Have you heard from Pastor Lee about his thoughts on the documentary? Do you plan to screen "The Drop Box" in South Korea?

Ivie: Pastor Lee is celebrating right alongside with us. We're not having a release in Korea until later in the spring. Of course for him, this is hopefully gonna bring in a lot of support for the work that he's doing on the ground on the frontlines, because he's the one really in the battle.