'A.D. The Bible Continues' Episode 4 Review: Pilate and the Holy Spirit Both Full of Hot Air?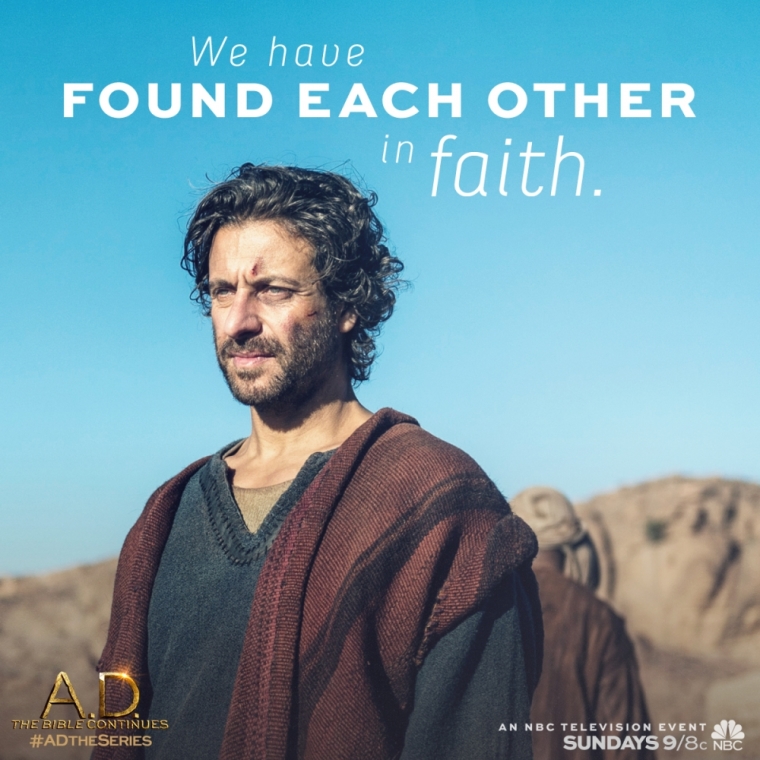 During Sunday's episode of "A.D. The Bible Continues," it was clear that Pontius Pilate and the Holy Spirit were both at work but in completely different ways, and left me wondering whether both were actually full of nothing more than hot air.
Pilate began his crusade against the Jewish people in retaliation for the murder of a Roman guard. He kept the ashes of the fallen guard on his desk and frequently opened it in order to "see" his employee. At one point, he poured out the ashes and made them into a stick figure, telling his wife that that was all that was left of the man who served his country, and he would soon be building a mountain of ashes of the Jews. At that point, even his wife looked appalled and worried about his mental state.
Pilate has officially become consumed with revenge, having 10 Jews crucified every day until the Roman guard's murderer is brought to justice, but little does he know that the killer has escaped. How many more Jews will have to die to satisfy Pilate's desperate need for blood? The actor who plays Pilate, Vincent Regan, does a great job of showing Pilate's descent into near madness, especially at the end of the episode where he forces Caiaphas to eat the ashes of the dead Jews and Roman soldier.
The other central "image" addressed in the episode was the Holy Spirit working through Peter and John. After last week, when the image of fire represented the Spirit, I was expecting that same image to appear and be the full depiction of the Spirit. However, I was deeply disappointed and somewhat amused that in this episode, the Spirit was depicted by a sudden gust of wind.
As Peter and John were put on trial before the religious leaders, anytime they were asked a question, a gust of wind blew through Peter's hair, seemingly providing him with the strength to give the honest answer. It was as if on cue — ask Peter a question, suddenly the wind blows and he speaks. Yet this was lost when Peter brought a young girl back to life and later received a vision of Ananias and Sapphira's deception. So when will the Holy Spirit speak or blow through the atmosphere? One never knows.
It was confusing to see the Holy Spirit depicted as a mere gust of wind, especially when that imagery was dropped. Now we have had two images presented: the fire and the wind. How is one to know exactly when the Holy Spirit is moving, except through Peter's words? And how will it continue to be represented throughout the series? These questions remain unanswered as of now, but I hope that there will be a unified depiction that is less hokey than what has already been presented.
"A.D. The Bible Continues" airs Sunday nights on NBC.