'A.D. The Bible Continues' Returns With Intensified Persecution; 'Beyond A.D.' to Feature Kirk Cameron, All Sons & Daughters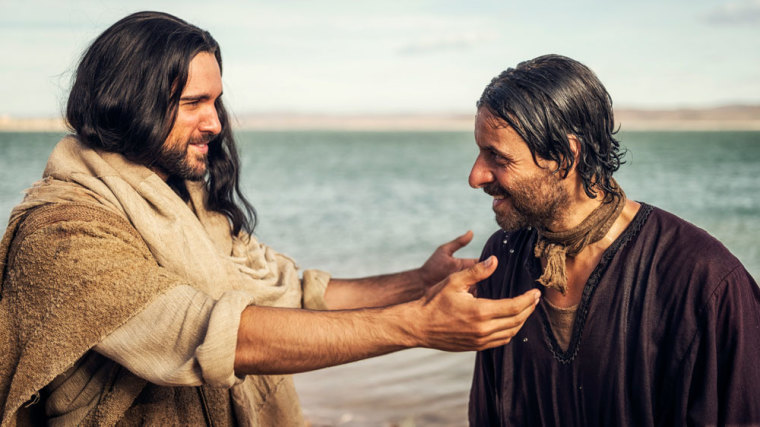 "A.D. The Bible Continues" fans can look forward to both a brand new episode as well as an exciting edition of the hit series' companion talk show "Beyond A.D." featuring Kirk Cameron and All Sons & Daughters on Sunday.
Roma Downey and Mark Burnett's follow up to the "Bible" series returns to NBC with more from the book of Acts, including stories about the early church and intensifying persecution against Jesus' first followers.
All Sons & Daughters guitarist David Leonard spoke to The Christian Post about his reaction to "A.D. The Bible Continues" as well as his musical guest appearance on "Beyond A.D." this week.
"I can't help to be drawn to tears," said the musician of NBC's television series. "I avoid those things, sometimes I'm afraid of emotion. To see it on screen so beautifully just brings so many different emotions. Just to see the interaction between all the guys after Jesus is crucified and the doubts - there are moments of my own life when I ask, 'Where are you, God you're here,' so much of that. I'm honored to have been a part of this in the small way [that] we have been, it's been beautiful. People are being moved and changed by it."
Leonard told CP that the overwhelming response to "A.D. The Bible Continues" represents a need for biblical content on television.
"People are looking for truth, they are looking for something they can simply connect with and be who they are, and Scripture allows that," the musician continued. "What we see with ["A.D. The Bible Continues"] is truth. We are tied back to truth and things that we know, people [are] constantly looking for that and a place to express how they feel. The show allows them to feel those things, and feel in a different way than they have before."
All Sons & Daughters is comprised of Leonard as well as lead vocalist Leslie Jordan, and the Christian duo will perform their song "Buried In the Grave" on Sunday's episode of "Beyond A.D.," available for streaming on NBC.com at 9 a.m. ET.
Hosted by Jason Kennedy, "Beyond A.D." is taped before a live audience and serves as a discussion platform for plans, cast, producers and special celebrity and musical guests. In addition to the performance by All Sons & Daughters, Sunday will see "Fireproof" star Kirk Cameron join "A.D. The Bible Continues" actress Chipo Chung as they cover both the historical and spiritual topics depicted in the series.
Meanwhile, Sunday's sixth episode of "A.D. The Bible Continues" will see Peter under pressure to look after Jesus' flock as Saul begins to persecute the church. Furthermore, Caiaphas's position comes under threat from both Antipas and his own family. Pilate plays them all against each other.
"A.D. The Bible Continues" episode six will air on NBC at 9 p.m. ET Sunday, May 10. The encore of last week's episode five will air directly before the new installment.
Watch a preview for "A.D. The Bible Continues" below.