'A.D. The Bible Continues' Touts Diverse Cast — and 'This Isn't Token Diversity,' Creators Say
New Series From Mark Burnett and Roma Downey Premieres Easter Sunday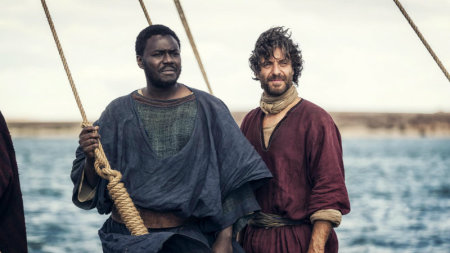 NEW YORK — Mark Burnett and Roma Downey, creators of "A.D. The Bible Continues," have not shied away from pointing out that their new series includes an "accomplished cast hailing from more than 10 different nations." But that is because the couple has also acknowledged that they "could have done a better job in hiring a diverse cast" for their 2013 ratings blockbuster, "The Bible."
Although "The Bible" series "made strides ... we needed to see more of the diversity of the church," Barbara Williams-Skinner said during a diversity chat on Twitter last week. "For too long religious programming has neither reflected the look of biblical times (nor) the diversity of the church today."
"We made this point to Mark and Roma after ("The Bible"), and quite frankly they listened. I'm glad for that," she added.
Williams-Skinner, a leader of the National African American Clergy Network, was joined in the online discussion last week by Burnett and Downey and Bishop Vashti McKenzie of the African Methodist Episcopal Church, the denomination's first female bishop. The Twitter chat was hosted by Joshua Dubois, former head of the White House's Office of Faith-Based and Community Partnerships.
In the chat, Downey agreed that she and her husband had taken an "important step" and that she was "excited that #ADTheSeries reflects the beautiful tapestry that is the church."
"We serve a God who loves all people equally. But casting for religious programming has not been as equality-focused," her husband added. "So the cast on #ADTheSeries is very diverse — but here's the thing — they're also the best possible actors for the role."
Downy agreed: "The actors playing James, John, Mary Magdalene and more are simply amazing. This isn't token diversity. They're just GOOD."
The "accomplished cast" headlined by Argentinian "Jesus" Juan Pablo Di Pace includes, according to a press release: John - Babou Ceesay (Gambia); Mary Magdalene - Chipo Chung (Zimbabwe); James - Denver Isaac (Zimbabwe); Arik - Nicholas Pinnock (Jamaica); Simon the Zealot - Fraser Ayers (Scotland/Black); Ananias - Peter De Jersey (Britain); Mother Mary - Greta Scacchi (Italy); Thomas - Johannes Johannesson (Iceland); Judas - Cesare Taurasi (Italy); and Boaz - George Georgiou (Greece).
"A.D. The Bible Series" had its premiere reception on March 31, at The Highline Hotel in New York City. The Christian Post asked a few of its star cast for their thoughts on the diversity of new series.
Ceesay ("'71" and "Shirley") may or may not be the first black actor to play John in a major television production. John the apostle, who along with his brother, James, Jesus dubs the "sons of Thunder," is credited with writing one of the four Gospel accounts about Christ. In some respects, the British actor considers the fact that he has brown skin to be incidental to the role he plays.
"I guess what it says in the end is that it's not so much about where the man is from, it's more about what he represents and what his soul is about," Ceesay said of his character. "The actions that John takes, the things that earn him the title 'the beloved' and that made him such an influential figure in the church was that he made choices. And those choices put him in harm's way for other people. Those choices helped to change the status quo of that time. Those choices led to what we have as a world now. At the time he wasn't aware of that, but he did that. That's the man. What he looked like is irrelevant.
"Nowadays everything is linked to what you look like, you know there's celebrity and all this nonsense. But in reality, if you're able to look past the person in terms of the surface and look at their actions, then that defines them. I've had the opportunity to try and bring some of what I found in my research of the man, John, to life. The fact that I'm brown is by-the-by."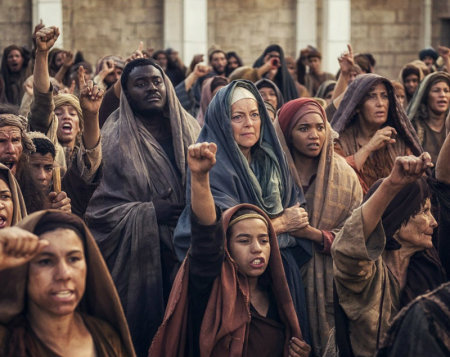 But the married father and former accountant is not totally willing to dismiss his groundbreaking role as "no big deal."
"On some level I think it's no big deal, I have to. And I would implore anyone who is in any predicament, whether you think it's because of your sex in terms of whether you're a man or a woman, your sexuality, whatever your choices are, the color of your skin, that on some level you have to be gung-ho, 'I don't care. I don't notice what the world is telling me is right or wrong. I'm just going to do what I need to do and see what comes of it,'" Ceesay said.
"On another level, you can't ignore the fact that there are some disparities, there (is) some unfairness, there is that, you know, 'because you're black these are the roles that you're good for.' I think the combination of me not caring that I'm black and approaching it with belief ...," he said before trailing off.
"When I got sent the part of John I never thought, 'Oh, John is black.' I just thought, 'What an interesting role, I'm going to go audition for it.' I genuinely thought that," Ceesay told CP. "On the other hand though, Mark and Roma Downey, out in the middle of Malibu, decided, 'We'd like to make this a diverse cast.' They made that decision and that decision is part of the reason I'm here today. That combination."
Chipo Chung, who called "A.D. The Bible Continues" "fun," "edgy" and "gritty," plays the part of Mary Magdalene, the first of Jesus' friends and followers to see him resurrected from the dead.
What does she think of the diversity of her castmates, who represent countries from nearly every continent?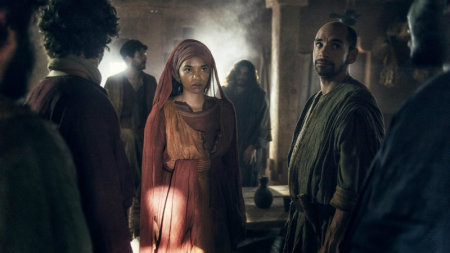 "I think that's what Jerusalem was like at that time. There were traders coming in from Libya, from Ethiopia, from Egypt going on to Syria and Persia and Greece, so it was a real mix up," Chung told CP.