'A.D. The Bible Continues' Touts Diverse Cast — and 'This Isn't Token Diversity,' Creators Say
New Series From Mark Burnett and Roma Downey Premieres Easter Sunday
"We've been filming in Morocco and the Berber people have been all about supporting artists, and I look quite similar to them. And many of them were historically Jewish, they were a nomadic Jewish tribe," she added. "That feels really authentic, they feel really authentic. And I think the church today is so diverse. The church in China is growing, let alone Africa. It's beautiful to do a classical tale that's authentic to that time but is also true to the church today."
Vincent Regan, the Irish Wales-born actor who takes on the role of Roman governor Pontius Pilate in "A.D.," said he found the diverse ethnic backgrounds of the cast "wonderful."
"I mean, the Christian faith is a global faith. And every time you do a show about Greeks, Jews, Romans usually it's the same faces (mine usually)," Regan told CP. "I just think it works so well to have a diverse ethnicity in the show, you know. Because the qualities that someone like Babou and Chipo bring to their roles is extraordinary and really moving."
Regan added, "It's a beautiful show. I'm really proud of it, actually."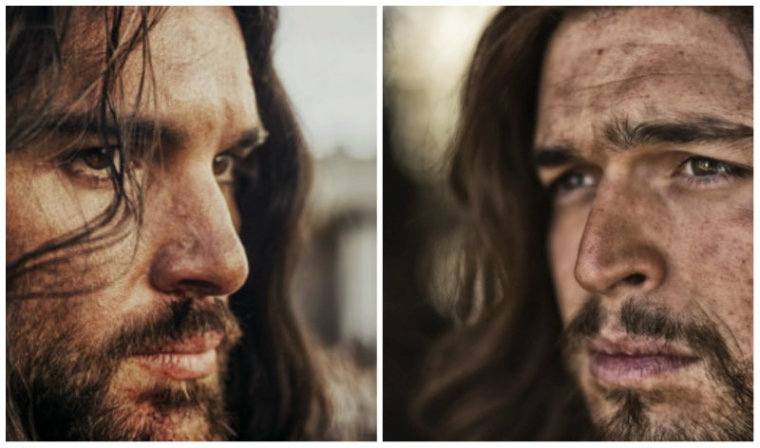 THE NEXT FRONTIER: A BLACK JESUS?
The question has been asked for centuries: what did Jesus look like? 
There is conjecture that John, the author of the book of Revelation (and not necessarily the beloved apostle), describes Jesus as literally having hair "like wool" and feet resembling "polished bronze," which some assert, would mean Jesus looked like a black man. Others argue, however, that John's description is all metaphor, and not a picture of Christ's actual features.
In popular western art and movies, Jesus is presented with long hair and fair skin, resembling a European man. A recent exception was "Killing Jesus," the National Geographic Channel adaptation of Bill O'Reilly and Martin Dugard's book of the same name. In that television project, Haaz Sleiman, a Lebanese actor, portrays the Middle Eastern Messiah, also with long hair.
Burnett, who surprised some viewers of "The Bible" with his choice of Nigerian-Brit Nonso Anozie to play a dreadlocked Samson, has suggested that he may be considering an exception as well.
"We realized that we could have made 'The Bible' better in terms of diversity, but we are getting the chance to do it again," Burnett acknowledged in February to a group of African-American clergy at an "A.D." screening in Washington, D.C. The event was hosted by Dubois, the author and former White House staffer who also organized the Twitter chat on diversity.
"In the Bible there are always second chances. 'A.D.' was our second chance and we manage to make this very Afrocentric in major characters," Burnett told the pastors and church leaders, according to The Washington Post.
In their promotion of the new "A.D." series, Burnett and Downey have placed "a special emphasis on the Latin American community and the black community," according to Patheos film columnist Peter T. Chattaway.
As Chattaway notes, the group of African-American pastors and church leaders with whom Burnett met were not very impressed with the "Survivor"creator's choice of Argentinian actor Juan Pablo di Pace to play the Son of God.
"This would have been great for us in 1980, but in 2015, we need to consider for accuracy sake Jesus having another type skin color," the Rev. Darrel Watson, dean of the Seminary Division of the Maple Springs Baptist Bible College, told Burnett at the gathering. Watson referenced Revelation 1:14, the part of the Bible that describes Jesus' "head and his hair (being) white like wool, as white as snow," and his eyes being "like flames of fire," his feet "like polished bronze refined in a furnace," and his voice thundering "like mighty ocean waves."
"Given latest scholarship, Jesus is more to be seen as black than anything else," Watson argued.
Burnett told Patheos in an interview published nearly two months after the Washington gathering that he was possibly considering that aspect for future Bible projects:
"We're involved with the African-American churches in a huge way, and we understand we didn't quite do a good enough job on that, but I think we've done a really good job of showing the diversity of the region," he says. "It was the center place of trade from the east, from Persia and beyond, and Africa clearly, as we see from the Ethiopian eunuch coming through, and then with the lighter-skinned Europeans from Rome.

"So certainly people wouldn't have been white, in that sense of the word, and we've tried the best we could, and I think your question leads to why didn't we have a darker-skinned Jesus. We have a Hispanic Jesus, and I think we're looking at that for the future."
How far into the future, and for what project? The Christian Post did not follow up with Burnett before publication to find out.
As of now, some Christians are pleased just to hear that a wide swathe of actors have been cast for "A.D."
That includes pastors Creflo and Taffi Dollar, who stopped by the NYC premiere reception for "A.D. The Bible" continues. When CP told Mrs. Dollar about the ethnic mix of the cast she seemed surprised.
"I think that's wonderful," she said, later adding that she thinks the series will be "another attention-getter."
Dollar said he thought the diversity of the "A.D." actors was "great."
"It's going to make people feel included, make them feel a part of it. It's going to represent the rainbow that the church should represent anyway," he added. The megachurch pastor, with congregations in Georgia, New York and overseas, said he played an "A.D." promo for his church and encouraged everyone to watch the series.
"A.D. The Bible Continues" picks up where 2013's "The Bible" left off. The new series portrays the challenges Jesus' disciples faced with political and religious leaders in spreading his teachings throughout the Roman Empire and founding the Christian Church, which today claims more than 2 billion people worldwide.
"A.D. The Bible Continues" premieres at 9 p.m. ET on Easter Sunday, April 5 on NBC.