'A Wrinkle in Time' Trailer Released; Exploring the Film's Christian Connections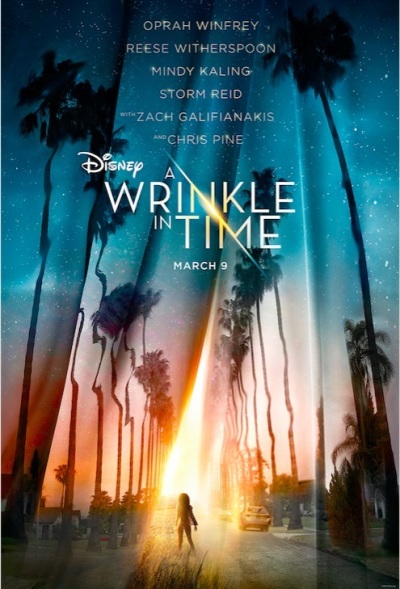 The first trailer for the star-studded science fantasy film "A Wrinkle in Time" is making its rounds online this week, so The Christian Post is exploring the film's Christian connections.
While Disney's "A Wrinkle in Time" is by no means a Christian movie, one look at the film's synopsis highlights general themes often found in Christianity like the battle between darkness, light and love. According to the film's description obtained by The Christian Post, it "takes audiences across dimensions of time and space, examining the nature of darkness versus light and ultimately, the triumph of love."
The movie, due in theaters next March, was adapted from the book bearing the same name written by famed writer Madeleine L'Engle. L'Engle died a devout Episcopalian in 2007 after serving as a Sunday school teacher, librarian and writer in residence at Cathedral Church of St. John the Divine in New York City for close to 30 years.
While she has been outspoken about her faith throughout the years, some conservative Christians have taken issue with the fact that A Wrinkle in Time mentions Jesus in the same breath as Gandhi, Buddha, and Einstein as forces who fight evil on earth. According to The New Yorker, Catholics have spoken against the film mixing such themes together. Some have also objected the depiction of mystical powers (such as of the woman with the crystal ball), arguing that it references the occult.
While PBS named the book one of the top 10 books banned in the country in 2000 after complaints from religious conservatives who felt the uses of witches and dark forces went against Christianity, L'Engle didn't seem to mind.
"We have always liked banning. And Hitler and his cohorts started banning books and then to killing people," she told PBS. "You have got to be very careful of banning. What you ban is not going to hurt anybody, usually. But the act of banning is."
Aside from the Episcopalian author whose imagination birthed the upcoming Disney film, there are a number of actors in "A Wrinkle in Time" who have identified with Christianity.
Actress Gugu Mbatha-Raw, who plays Dr. Kate Murry in the film, has previously spoken up about her Catholic roots.
"I would definitely say I am spiritual, you know. I was born and raised a Catholic and baptized at school," she previously told Essence. "I am definitely a very spiritual person; I think you sort of have to be in life, and in this industry, and as a woman, and as an actress."
Reese Witherspoon, the actress who plays Mrs. Whatsit in the movie, has opened up about being raised as an Episcopalian. Witherspoon said she still struggles with hearing people use the Lord's name in vain.
"When I first started, when I was really, really young, it really bothered me taking the Lord's name in vain. Because that's a commandment," she revealed on the Netflix talk show "Chelsea". "And it really bothered me!"
"It still bothers me."
Meanwhile, media tycoon Oprah Winfrey, who plays Mrs. Which in the upcoming film, has identified with Christianity while promoting New Age beliefs. She has also denied that there is only one way to God.
"I grew up in the church. My grandmother led me to the sense of God and made me believe there was a greater force than me," Winfrey previously said, according to South Africa's Channel24 reports. "I grew up believing that God was my father and Jesus was my brother, which meant I could do anything in life."
"A Wrinkle In Time" also stars Mindy Kaling, Michael Peňa, Levi Miller, Deric McCabe, André Holland, Rowan Blanchard, Zach Galifianakis, Chris Pine and introduces Storm Reid. The film, directed by Ava DuVernay, will arrive in theaters on March 9, 2018.