Abortion Billboard Wars in Ohio: Killing Babies No Way to Plan Parenthood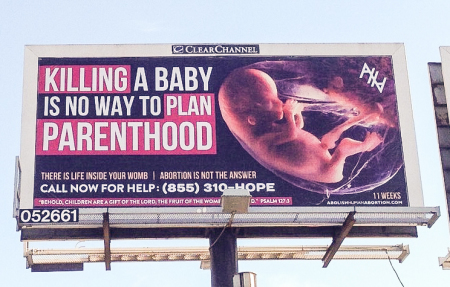 Opposing abortion billboards in Ohio are stirring up debate, with a pro-life ad arguing that "killing a baby" is wrong, while a pro-choice billboard defends the practice, stating that women should have a choice regarding matters related to their bodies.
Christian News Wire noted that the pro-life billboard, erected two blocks away from the Columbus Planned Parenthood surgical abortion center, reads: "Killing A Baby Is No Way To Plan Parenthood." It refers to abortion provider Planned Parenthood, which has clinics nationwide.
A few miles away stands an opposing billboard, which states: "There's Nothing Wrong With Abortion. Your Choice. Your Right."
Both billboards were reportedly funded by grassroots efforts, and represent the continuing debate on abortion in America.
This year Planned Parenthood found itself at the center of the debate and portrayed in a negative light, accused of harvesting aborted baby parts in a series of undercover videos released by pro-life group Center for Medical Progress.
The U.S. Department of Health and Human Services Inspector General Daniel R. Levinson was urged in response by Senate Republicans to carry out a full audit of all fetal research to guarantee compliance with relevant laws.
"The Planned Parenthood videos recently released by the Center for Medical Progress raise serious concern about potential violations of federal law prohibiting the transfer of fetal tissue for valuable consideration. The videos not only raise questions about Planned Parenthood's compliance with applicable laws and regulations, but also highlight potentially significant problems with HHS's oversight of practices in this market in general," read a letter from GOP 2016 presidential hopeful Sen. Rand Paul of Kentucky.
Planned Parenthood President Cecile Richards claimed in a testimony before a congressional panel investigating the organization back in September, that the group only has a limited role in supporting fetal tissue research.
"Using fetal tissue in lifesaving medical research is legal," Richards asserted, adding that fewer than one percent of Planned Parenthood health centers facilitate the donation of such tissue for research.
"Donating fetal tissue is something many of our patients want to do, and regularly request."
Planned Parenthood remains the largest abortion provider in the U.S., operating close to 700 centers nationwide.
The particular Planned Parenthood facility in Columbus, Ohio, where the billboards are erected has also been the site where close to 70 anti-abortion volunteers praying, holding signs, distributing literature, and offering assistance to pregnant mothers outside the surgical center throughout September.
Elizabeth Johnston, the organizer of Sidewalk ministry, which carried out the protests, said:
"When God's people show up, God moves, and babies and their mothers are spared the horror of abortion."
Johnston added that she hopes the pro-life billboard will serve as an effective tool in aiding their ministry outside the abortion center.