'Activist Mommy' Hails Victory After Condé Nast Halts Teen Vogue Print Edition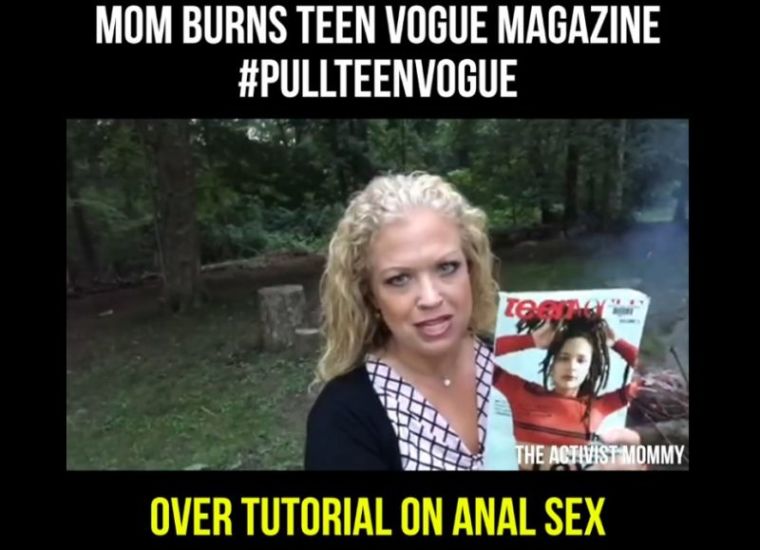 Conservative evangelical mommy blogger Elizabeth Johnston, who runs the popular blog and Facebook page "The Activist Mommy," is proclaiming victory after it was reported Thursday that the print edition of Teen Vogue will be halted.
The New York-based publisher Condé Nast announced that it will be closing the quarterly print edition of Teen Vogue, a fashion magazine tailored toward teenage girls. The announcement comes just months after the outlet published a controversial guide on anal sex.
According to The New York Times, the publisher, which also announced that it cut 80 jobs from its 3,000-member workforce, is leaving open the possibility of publishing special print editions of Teen Vogue. Meanwhile, Condé Nast will continue to print many of its other publications such as Vanity Fair, Vogue, and The New Yorker.
In July, Teen Vogue received much criticism after it published a "What You Need to Know" advice column on anal sex written by Gigi Engle. The column provided detailed instructions to teen girls and LGBT youth about how to do anal sex the right way.
The column drew the ire of many, including Johnston, who took to her "Activist Mommy" video blog and social media pages to voice her disapproval.
In a video update seen by over 12 million people and reported on by a number of Christian and conservative media outlets, Johnston burned a copy of Teen Vogue and urged parents to pressure retailers to pull the magazine from their stores.
Johnston, a homeschool mother of 10, declared in her July post that "Operation Pull Teen Vogue" was underway. She asserted that "Teen Vogue magazine must be pulled from all store shelves" and that it is "a danger to children."
On Thursday, Johnston told The Christian Post in an email that she is "thrilled" by the news from Condé Nast.
"The publisher, Condé Nast, has shuttered the [Teen Vogue] print publication, while other Condé Nast publications will remain in print. Operation Pull Teen Vogue was a grassroots campaign by concerned parents who don't believe anal sex and sex toys should be peddled to their children under the guise of a fashion magazine," Johnston wrote. "Teen Vogue editors Elaine Welteroth and Phillip Picardi ignored our concerns and mocked our campaign, but we gave them a black eye from which they never recovered. Let the watching world take note: If you pander obscenity to our kids, especially for a profit, we will destroy you."
After parents complained about the anal sex column, Picardi posted a picture on Twitter showing him kissing a man and sticking up the middle finger to the camera.
"I want to personally thank all the concerned parents who marched into your local stores and libraries and demanded Teen Vogue be pulled from the shelves," Johnston added in her statement. "You are the real heroes today. I am honored to fight with you to provide a safer world in which to raise your precious children."
The closing of Teen Vogue's print edition, which began in 2003, falls in line with the struggling trend for print publications tailored toward teenage girls. Last November, Condé Nast announced that it would cut back on the frequency of Teen Vogue's publication from nine editions a year to just four.
Similar publications like Teen People and CosmoGirl ended years ago.
Johnston has already shifted her focus toward another publication — Cosmopolitan, which she is accusing of trying to normalize incest among long-lost siblings by publishing a recent article titled "This Is What It's Like to Fall in Love With Your Brother." Johnston claims that article's effort to normalize incest is part of the "slippery slope conservatives have been warning about."
"Teen Vogue is out of the way but there are plenty of other disgusting magazines out there," Johnston wrote in a Facebook post. "Cosmo...you're next! #PullCosmo."