'Activist Mommy': Teen Vogue's Sex Guide Would Be Crime If Texted to Minors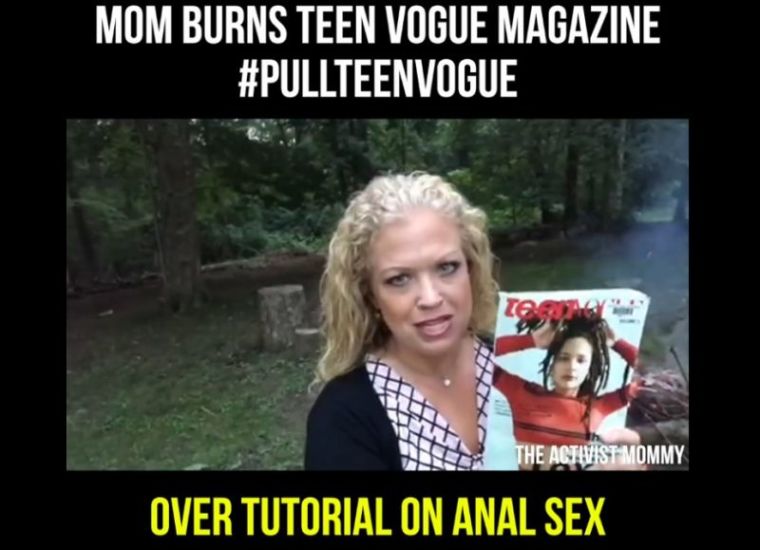 The conservative Christian mother behind "The Activist Mommy" Facebook page has said that she's received both overwhelming support and hate for a posting a video in which she's seen burning a copy of Teen Vogue magazine after it published an article encouraging children to experiment with anal sex.
"It's been overwhelming," said Elizabeth Johnston, an Ohio homeschool mother of 10, in a CBN News interview she posted on Monday.
"I've had overwhelming support, and overwhelming hate," she added of her July 13 video, which as of Tuesday morning has over 9.3 million views.
"Here you have adults peddling this sexual information to minors, to children as young as 12 years old. If the author of this article, Gigi Engle, if she were to text the contents of this article to a 12 year old, she could be prosecuted," Johnston alleged.
The Teen Vogue article offers detailed suggestions to young girls about anal sex and claims that it's enjoyable activity that everyone's doing.
Some women's rights advocates have slammed the magazine for minimizing the risks and physical harms associated with anal sex.
"This is porn culture completely normalized and mainstreamed," Dawn Hawkins, senior vice president and executive director of the National Center of Sexual Exploitation in Washington, D.C., told The Christian Post last week.
Hawkins suggested that there is an uptick in young men viewing pornography that includes anal sex, which leads to them encouraging their girlfriends to try it.
"And they aren't talking about the physical and emotional harms that come with this, and the long-lasting impacts," she said.
Natasha Chart, a member of the board of directors for the radical feminist group Women's Liberation Front, added that the Teen Vogue article "totally ignores" abusive power differential.
"People talk about their bodies in that way when they have had some sort of trauma and they are trying to separate their consciousness from the horror of what was done to their body," Chart told CP, adding that such a message is a destructive one to send to young people.
Phillip Picardi, the digital editor for Teen Vogue, responded to the controversy surrounding the article in a tweet on Friday, saying, "The backlash to this article is rooted in homophobia. It's also laced in arcane delusion about what it means to be a young person today."
But Johnston, who in the past has accused Facebook of censoring her page for posting messages about the Bible and homosexuality and sin, said in her CBN interview that Teen Vogue is "teaching children 11 through 17 ... how to be safely sodomized."
Johnston explained that she was outraged after a number of parents sent her the Teen Vogue article.
"I could not believe what I was reading," she said, before revealing stories of parents and supporters who have joined her 'Operation #PullTeenVogue' social media campaign.
One man named William apparently went to his local Kroger store, and took all nine Teen Vogue magazines on the rack.
"I walked right up to the manager and asked him if he would allow his kids to read this. No joke folks, he literally ripped them up and told his loss prevention team to write them off as stolen. I'm now shopping there for the rest of my life," the man revealed.
Johnston insisted that it is this kind of "righteous indignation that we must return to if we ever hope to save the next generation from this sexualization that is being pushed upon us by progressives."