Actor Zachary Levi of 'The Star' Says 'Trust The Creator' When Life Throws Curve Balls (Video)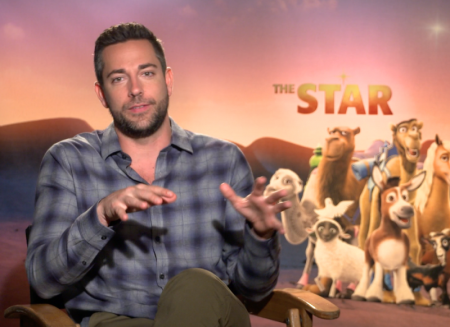 BEVERLY HILLS — During a recent interview for Sony Pictures Animation's Christmas film, "The Star," popular actor Zachary Levi advises people to "trust The Creator" even when life throws you curve balls just as his character Joseph did in the Nativity story.
"The Star" hits theaters nationwide on Nov. 17. The film is the first faith-based animated film since 1998's "Prince of Egypt." It tells the story of the first Christmas through the perspective of the animals that traveled with Mary and Joseph to Bethlehem and witnessed Jesus' birth.
The "Chuck" star plays the voice of Joseph in "The Star" movie, a voice in which Sony Animation had to take creative liberties in expressing because there is not much Biblical information on Joseph, other than the fact that he was a carpenter and espoused to Mary before she got word that she was pregnant with the Son of God.
"I just got to bring this vulnerability, this wrestling match with God of like, 'What are you doing? How am I supposed to tackle this? I'm nobody! I'm a carpenter,'" Levi told The Christian Post of his role as Joseph.
The actor said he see's first-time dads "freaking out" about having their own child "let alone the son of God."
"Mary and Joseph were human beings and you need to create characters that these audiences can go and relate to," he maintained.
Although "The Star" is an animated film, the family-friendly film can be enjoyed by both kids and adults alike. The movie offers many timely lessons and Bo's quest for a greater purpose will inspire many. The telling of the birth of Jesus will also serve as a reminder for viewers in the midst of much unrest in the world, that Jesus is still the hope of the world.
Levi went on to share advice for anyone like Joseph, who has to deal with unexpected life events.
"If you are someone of faith ... and you do believe that there is a creator and you believe that there's intelligent design behind all this and that creator does love you and has put value in you, then trust, no matter what these curve balls are, either there's a reason for it ... but even if it's not, even if there isn't a reason right then, there's a reason later on," the California native assured.
Adding, "I've been brought to my knees so many times in my life thinking, 'What's the point, there's no value left in me at all,' but when I finally surrender that, the blessing that comes on the other side of that, even just recently in my life, it's so humbling."
Levi said realizing that he does not know as much as he thought about life has been very humbling for him.
The 37-year-old actor went on to say that people like to get puffed up by their successes or man-made things. However, he believes, "We are so smart, we don't know anything!"
"To humble thyself back down to that really brings ... joy and peace when those curve balls come," Levi concluded.
"The Star" was directed by Academy Award-nominated writer/director Tim Reckart ("Head Over Heels") and produced by DeVon Franklin ("Miracles From Heaven").
Along with Levi playing Joseph, "The Star" features Steven Yeun ("The Walking Dead") as Bo the donkey, singer Kelly Clarkson as Leah the horse, Anthony Anderson as Zach the goat, comedian Gabriel Iglesias as Rufus the dog, Kris Kristofferson as the Old Donkey, Gina Rodriguez as Mary (mother of Jesus), Oprah Winfrey as Deborah, Tyler Perry as Cyrus and Tracy Morgan as Felix.
For more information about the film, click here.