Actress April Hernandez-Castillo details her abortion, says don't forget the 'terrified' woman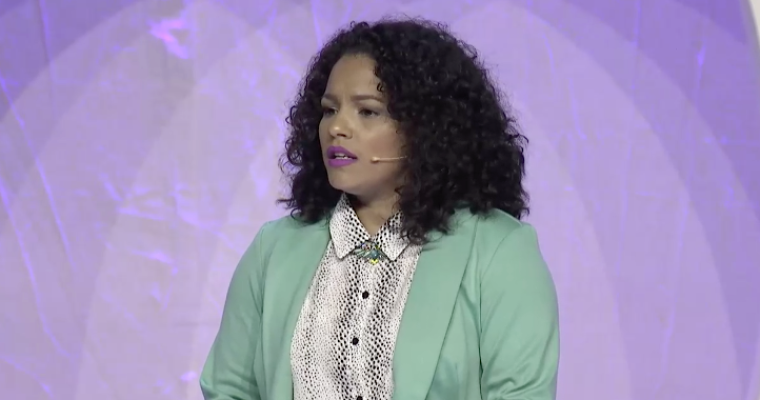 "My name is April Hernandez-Castillo and I had an abortion."
The film and television actress recently stood before hundreds of fellow Christians at the Q conference to reveal her personal journey and to make an appeal: to love the woman as much as the unborn child.
"I understand that the topic of abortion is touchy. I understand that I am in a room full of believers, faith movers and shakers and yes we absolutely must fight for the life of the unborn child," Hernandez-Castillo said last week in Nashville. "But I wonder, have we missed and failed the woman who's terrified."
The now 39-year-old actress — known for her role in the 2007 film "Freedom Writers" and TV shows "Dexter" and "Law & Order" — was 19 when she found out she was pregnant. She had just left an abusive relationship with a slightly older man who had almost taken her life.
She told no one about the abuse.
Her friend was with her when she took a pregnancy test.
"My friend, she asked me the $1 million question: 'Are you going to keep it?' It. Keep. It. As if I had an alien growing in my body," Hernandez-Castillo recalled.
After two lines appeared on the test, she cried because she was terrified and ashamed.
"I cried because I knew I could not bring a child into this world from a man who almost took my life. I cried because I knew I couldn't keep it."
She took the Q conference attendees on the journey of how she came to have an abortion as a teen, detailing each excruciating and reluctant step she took and the guilt that ate away at her afterward.
When she arrived alone at an abortion clinic in New York City, she was met by protesters in front of the big corporate building. Inside, the receptionist coldly asked her: "How do you plan to pay? Cash or credit? And it's 400."
There were other pregnant women — the youngest likely 14 years old — waiting. Hernandez-Castillo didn't look at anyone as tears fell down her face. "No one really spoke," she recalled.
After being called in, she saw the sonogram of her baby — "It was no longer an it but it was a human being," she described.
"But I still had to do it because sometimes when we find ourselves in desperate situations, we make desperate choices."
When she was escorted to another room to have the abortion done, she saw a machine and stained blood. The doctor told her not to worry, saying it will only take five minutes and "you won't feel a thing."
"Five minutes to remove a human," she thought.
When she woke up in a haze, the first words that came out of her mouth was: "I'm a murderer."
As she saw other girls waiting there, she felt like they had all just been "slaughtered like cows."
She felt empty.
"My womb was empty, my soul was empty, my spirit was empty."
As she stepped out of the clinic, one of the abortion protesters — an elderly woman — tried to give her a pamphlet.
"When I refused, she looked at me. She said, 'Oh, you did one of those. You're going to go to Hell.'"
In that moment, Hernandez-Castillo felt the woman was right and she condemned herself and vowed to never have children.
"I could never forgive me. I accepted that," she said.
After her abortion, Hernandez-Castillo "swept it under the rug" and was a "new woman." Her career was taking off and she was in a new relationship.
In 2008, her boyfriend began attending church and convinced her to go. She was still angry at God so she went to church with red lipstick, black sunglasses and sat in the back with her arms crossed ("because we always assume that the Holy Spirit won't reach us in the back").
As the pastor spoke about forgiveness, her body started reacting.
"I remember reaching my hand up into the sky as if to rip Heaven apart and just pull it open and bring God down because I was desperate to be forgiven," she described. "All of a sudden, I felt the power come down in my body and I fell to the ground in fetal position.
"I wasn't crying. My soul was sobbing. It was as if my womb, my uterus was sobbing."
She then heard God's voice.
"He said, 'My daughter, I forgive you. I love you. But I need you to forgive yourself.'"
Later that day as she was processing what happened, she saw what seemed like a vision. It was green and there were daisies everywhere. A little girl with long brown hair and a white dress appeared.
"She looked to me and she said, 'Mommy, I forgive you. I love you,'" Hernandez-Castillo emotionally recalled seeing.
"God was so good. He revealed her to me. And her name was Daisy."
Years later, her husband, Jose, took a photo of their daughter, Summer Rose, and it was the exact vision that she saw.
Looking back, she wishes the protester in front of the abortion clinic could have been more compassionate.
"I often think about the woman with the pamphlet and in that moment, how she chose to make it about herself, how she chose to condemn me. And it became more about her and less about what I needed, which was a hug, love and empathy," the actress noted. "Jesus said those without sin cast the first stone."
"Abortion is not about you. Abortion is not a black or white issue. It is a gray issue. My question to you all: Will you be willing to stand in the gray and meet the woman who's had one, two, three, four more abortions and still serve her?
"Jesus was willing to stand in the gray and He would ask one question: How can I help you?"
"If we want to be impactful, if we want to see change, we must be slow to speak, quick to listen and love unconditionally," she stressed.
The Q conference was held April 24-26 and featured various Christian speakers and thought leaders, including Andy Crouch, Toms Shoes founder Blake Mycoskie and Pulitzer Prize-winning author Frances Fitzgerald, among others.