Burger-Flipping Robot Takes Over the Grill at California Fast-Food Chain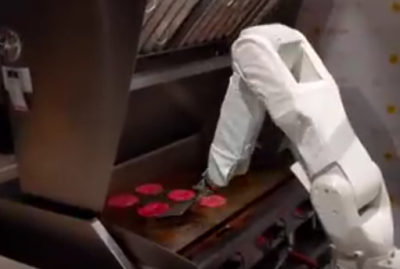 A robotic arm is now manning the grill at one California fast-food chain. 
In the Pasadena neighborhood of Los Angeles, California, an industrial robotic arm named Flippy is serving as the grill cook at the fast food chain CaliBurger. The burger-flipping robot is the first of many that will be working on the grill in dozens of CaliBurger chains, according to local news station KTLA.
The robot is the latest example of artificial intelligence being integrated into society with thermal vision, 3D, and computer vision data along with learning capabilities that will become beneficial in training Flippy. John Miller, president of CaliBurger, has been having trouble retaining his grill chefs which the robotic arm with artificial intelligence could put an end to.
" It's not a fun job — it's hot, it's greasy, it's dirty," said Miller.
Still, Flippy won't be taking over the jobs of CaliBurger workers, David Zito, CEO of Miso Robotics, insisted.
"The kitchen of the future will always have people in it, but we see that kitchen as having people and robots, "Zito told KTLA on Monday. "This technology is not about replacing jobs — we see Flippy as that third hand."
The use of robots in the workforce has been on the rise. Forrester Research estimates that while the increase in artificial intelligence could result in 15 million more jobs for human beings, that comes after a potential loss of nearly 25 million jobs, The Baltimore Sun previously reported.
J.P. Gownder, vice president and principal analyst for Forrester, spoke about the fears that some have about robots taking over jobs for able-bodied humans.
"Often the fears are overblown," Gownder said. "In many cases it doesn't impact the total number of jobs but changes the composition. For every robot, you need a robot repair person."
Jeff Burnstein, president of the Association for Advancing Automation, believes that the increase in the use of robots will do more to increase jobs than cause people to lose them.
"We see a future where increasing use of automation is actually leading to job growth, not job loss," said Burnstein.