AirAsia Confirms Flight QZ8501 Debris, 40 Bodies Recovered; Mayor Says Victims 'Belong to God' Now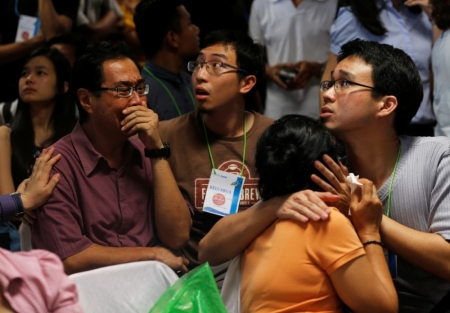 AirAsia has confirmed that debris from Flight QZ8501 has been discovered in the Karimata Strait, south west of Pangkalan Bun in the Borneo province of Central Kalimantan. At least 40 bodies from the 162 passenger list have already been recovered, leaving grieving family members devastated.
"The warship Bung Tomo has retrieved 40 bodies and the number is growing. They are very busy now," an Indonesia navy spokesman said, according to Fox News.
AirAsia confirmed that the debris and the bodies, found six miles from the flight's last point of contact, are from the missing aircraft.
Surabaya, Indonesia, Mayor Tri Rismaharini encouraged relatives to "be strong" during this time.
"They are not ours, they belong to God," Rismaharini said of the victims.
Flight QZ8501 went missing on Sunday, carrying 162 passengers from Surbaya to Singapore. The discovery of the debris follows two days of intense searching, aided by 30 ships and 21 aircrafts from Indonesia, Australia, Malaysia, Singapore, South Korea and the United States.
SB Supriyadi, Indonesia's national search and rescue director, revealed that the bodies discovered were not wearing life jackets. Rescue workers were shown on local TV being lowered from hovering helicopters and battling 6-foot waves and strong winds while trying to retrieve the bodies.
It is still not known what caused the plane to crash, though the pilots had requested a change in route because of bad weather shortly before communication was lost. The plane is believed to have been traveling at 32,000 feet, but had requested to fly at 38,000 feet.
AirAsia CEO Tony Fernandes said that he's "devastated" by the news, and offered his full support to the grieving families.
"I am absolutely devastated. This is a very difficult moment for all of us at AirAsia as we await further developments of the search and rescue operations, but our first priority now is the wellbeing of the family members of those on board QZ8501," Fernandes said.
He added that relatives of the passengers would be assigned care providers to offer them assistance in this tragic time.
Bereaved family members reportedly collapsed in grief at the crisis center in Surabaya, Reuters noted.
Almost all of the passengers were Indonesians, though there were also citizens from South Korea, Singapore, Malaysia and Britain.
Some relatives, such as 54-year-old Ifan Joko, refused to give up hope despite the tragic news on Tuesday.
Traveling on the flgith were his brother and his wife, their three children and two other family members.
"I know the plane has crashed, but I cannot believe my brother and his family are dead," Joko said. "... We still pray they are alive."