Americans Ask Media: Where Are You? #Gosnell as Witnesses Reveal Untold Slaughter at Abortion Clinic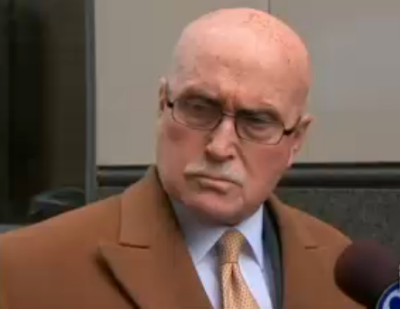 The national media is taking a beating today from Americans who are outraged by their refusal to cover the trial of abortionist Kermit Gosnell, and are using Facebook and Twitter to shame them for ignoring Philadelphia's "House of Horrors" murder case.
Pro-life advocates and those who believe in holding the media accountable for their failure to cover the Gosnell trial will be typing #Gosnell until midnight in support of the "TweetFest," sponsored by Operation Rescue, Priests for Life, Stand True and AbortionWiki, which are asking participants to post details about the Gosnell trial to their Twitter and Facebook accounts, and contact the media to ask them why they're not covering the case.
Cheryl Sullenger, a senior policy adviser for Operation Rescue, has been attending the Gosnell trial and told The Christian Post on Friday that the pro-life groups decided to use the social media forum as a platform for people to voice their frustrations over the mainstream media's decision not to cover the trial.
Sullenger said #Gosnell has been very active on Twitter today with people voicing their support.
On Friday afternoon, actress Patricia Heaton tweeted: "Media treats footballer's imaginary girlfriend as real, treats murdered babies in Philly abortion clinic as imaginary. #Gosnell"
Conservative commentator Dana Loesch said: "How many classrooms of children lost their lives at the hands of #Gosnell? Abortion control NOW."
Fox News contributor Father Jonathan Morris tweeted: "While old media refuses to cover mass murder abortion trial #Gosnell now tops twitter trending."
And former Republican congressman Allen West said: "Gruesome story of human rights abuse ignored by MSM because facts of #Gosnell trial don't fit liberal narrative."
Since the murder trial started in March, there have been no mentions of it on NBC, MSNBC, ABC, CBS, or PBS Newshour. CNN and National Public Radio have each mentioned it once. Exceptions to this media blackout are the more conservative Fox News and local media in Philadelphia, where the trial is taking place, as well as local media in Delaware, where Gosnell also worked part-time at an abortion clinic in Wilmington.
Gosnell, 72, faces seven counts of first-degree murder for allegedly killing babies who were born alive, outside the womb; and one count of third-degree murder for the death of Karnamaya Monger, a 41-year-old refugee who died in 2009, from a Demerol overdose administered to her at the Women's Medical Society abortion clinic that he owned and operated for 40 years in West Philadelphia.
Sullenger of Operation Rescue told CP that equipment and furniture from the abortion clinic was brought into the courtroom because the conditions of the clinic are not safe for jurors to walk through, and added that the equipment was falling apart.
"The vinyl recliner had blood spread all over it; and the suction machine was dirty," said Sullenger, explaining that instead of using clean, disposable suction equipment, Gosnell reused old equipment that had dried corroded blood all over it.
According to the prosecution, before the death of Monger, Gosnell had performed more than 200 illegal late-term abortions.
Sullenger said many of the employees that Gosnell selected to work for him were vulnerable people that he could control, because they had nowhere else to go and were in desperate situations. She said many of the women suffered from "depression, anxiety and bipolar disorder." And one employee said she started abusing alcohol after she witnessed a "prior bad act" at the abortion clinic that wasn't described in detail to the jury.
Earlier this week, Ashley Baldwin, who was 15 when she worked for Gosnell, testified that it was her job to administer IV injections and assist with abortions. Baldwin told the court she witnessed babies move more than five times, and saw one baby breathe.
Sherry West, a former employee at Gosnell's clinic who pled guilty to third-degree murder and conspiracy, testified Monday that she witnessed a baby screaming, lying on a shelf, having been delivered during an abortion procedure. West, 53, described the baby as being between 18 and 24 inches long.
West told the jury that the baby made a screeching noise. "She said it was not fully-developed and 'it sounded like a little alien,'" according to WPVI-TV.
Gosnell's employees also testified that he would order them to cut the babies' spines or behead the babies to "ensure fetal demise" if he didn't do it himself.
Sullenger commented that if the babies were already dead, "then why did they need to 'snip' the necks of the babies? ... Once the baby is born it has every protection everyone else has."
During his opening statement last month, Gosnell's attorney, Jack McMahon, accused the prosecution of "lynching" his client because they are racist, and not because he committed a crime.
"This is nothing more than elitist, racist, prosecution of a black man," McMahon said about the prosecution in his opening statement when it was revealed in court that Gosnell would put black women in rooms that were dirty, and have a 15-year-old administer treatment, draw blood and use ultrasound equipment, but would provide a one-on-one consultation with white women, who were in cleaner rooms.
"They want to put Mayo Clinic standards in West Philadelphia," McMahon said.
District Attorney R. Seth Williams laid out the case against Gosnell, his wife, Pearl, and eight employees in a grand jury report, which reveals that Gosnell profited $10,000 to $15,000 a day at his late-term abortion clinic – not including the $200,000 he made from writing 2,300 illegal prescriptions for OxyContin and other addictive drugs.
The criminal case against Gosnell began on March 18 and is expected to continue into May.