America's drug crisis: Christians in music, ministry share how drug abuse affected their lives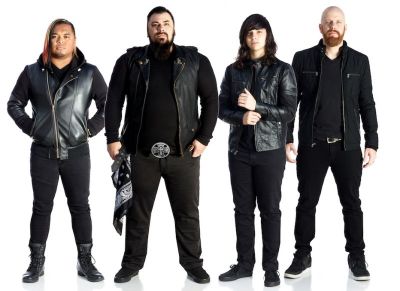 Seventh Day Slumber's Joseph Rojas
Joseph Rojas, founding member of the award-winning Christian rock band Seventh Day Slumber and creator of the City RockFest Tour, said he started using drugs when he was 12 years old.
"My father wasn't in my life and I had a lot of anger about that," said Rojas, who's also the founder of the Nashville Label Group pop imprint, Burtonwood Records. "I was raised by a single mother who worked long hours to provide for my brother and I. I still remember my dad beating my mom when I was about 4 years old. He was arrested and when he was released we never saw him again until much later on in life. Drugs were a way to numb the pain," Rojas told CP.
Rojas said he went in and out of jails and rehab facilities, yet nothing deterred him from using drugs.
"My addiction grew and grew until I was using about $400 worth of cocaine a day. I had finally made the decision to take my own life and took enough cocaine to stop my heart. My mother walked in unexpectedly just as I had overdosed. She was screaming and crying and called the paramedics," he said. "They got there quickly and had me hooked up to all the tubes and wires. I was coming in and out of consciousness in the ambulance, but I remember feeling the hand of God and asking Him to save me."
As he woke up in the intensive care unit that was when he said he made the decision to live for God
Rojas warned that people need to make sure they choose their friends "wisely." He recommended hanging around people who encourage each other, not those who bring each other down. He now understands, better than ever, how to be a help to others who are struggling with their own battles with drug dependency.
"As the saying goes, 'It takes one to know one.' I feel like I'm able to minister to those who are struggling because I've been there before. I also know when someone isn't shooting straight with me," Rojas said.
He advised churches and loved ones of those struggling with drug addiction to make themselves available and reach out to folks without making them feel uncomfortable.
"Addiction is tough enough for families and addicts and they don't need to be ostracized," he stressed. "Pastors shouldn't be scared to talk about addiction from the pulpit, and it wouldn't hurt for churches to do outreaches they don't normally do, like hosting a live music event beyond a worship service."
He suggested that to help remedy the opioid crisis sweeping across America, people need to "actually carry each other's burdens."
"[It means] to truly take some of our time investing in people. It's a commitment that requires phone calls, meeting for coffee, and inviting people to come over instead of leaving them home alone to think about their addiction," Rojas advised. "Prayer is the most powerful thing we can do for someone, but we have to be diligent. I've seen the power of prayer and community change my own life and many others just like me. It works!"
Rojas' life is now completely redeemed. Married for nearly 20 years with three sons, he and his family have traveled the world together on tour with Seventh Day Slumber helping to spread the Gospel and lead people to Christ — including his dad.
"If you are a drug addict, don't focus on the rest of your life. So often we get overwhelmed by thinking, 'For the rest of my life I can never use drugs again.' It's a lot of pressure. You just need to get through today. Stopping a day at a time is a lot easier than stopping 50 years at a time," he advised.
For more information about the band, visit Seventhdayslumber.com