America's drug crisis: Christians in music, ministry share how drug abuse affected their lives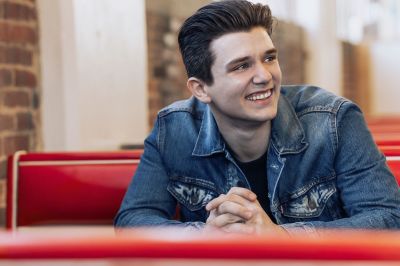 Nathan Sheridan
Christian artist Nathan Sheridan broke out onto the music scene in 2017 and unlike the other testimonies in this piece, his story is told from the perspective of a child who was victimized by his parent's drug abuse.
"Drugs impacted my life at a very early age. My parents were addicted to various substances and simply couldn't take care of me or my sister. Because of this, it was a constant tug-of-war between them and my grandparents," Sheridan shared with CP.
"My grandparents would have custody of us for a little while, then they would give my parents another chance to raise us. But It was only ever a few weeks before we were headed back to my grandparents. My parents just couldn't stay away from the drugs. It always crept back in and ruined everything," he said.
The young artist was sent to live with his grandparents in Pearl River, Louisiana, after his mother threatened to abandon him and his sister outside a police station. His grandparents, he said, gladly stepped in to provide the parental support they both needed. But shortly after moving in with their grandparents, Sheridan tragically lost his older sister to brain cancer.
Although he was angry and struggling with feelings of abandonment, he never turned to drugs himself. At age 14, he found hope in God and gave his life to Jesus after watching at a church-sponsored play where he heard the Gospel for the first time.
Sheridan said he believes everything he's been through has made all the difference in his music and ministry, and shared some things he thinks churches can do to help families like his.
"There are already many different ways to get addiction help in churches, but I hope the church never loses sight of this mission. We have a drug problem in this country that is perhaps worse than ever. And so many people are destroying their lives and hurting those around them," he said.
Leading people to Christ is key, Sheridan emphasized.
"Drugs and alcohol might be momentary pleasures, but it always ends in regret and despair for you and the people who love you," he said.
The young artist also gave his solution for helping to end the opioid crisis in America.
"I personally believe it's important to cut off the supply of illegal opioids wherever they're coming from and for prescription drugs to be heavily monitored. These are obvious solutions that are likely a lot more complex beneath the surface, but nonetheless, it would help stop the destruction of so many families. Something has to be done. If you don't stop the flow of drugs then you can't stop the drug use — at least not on a mass scale," he said.
Sheridan is now happily married and lives in Nashville, Tennessee, where he was discovered and offered a record deal with Joseph Rojas' Nashville Label Group pop imprint, Burtonwood Records.
He released his debut album Broken With You where he was able to share the impact drugs had on his life and the freedom he found in Jesus.
"I hope my new record is both relatable and personal. Songs like the title track, 'Broken With You,' are about this exact subject we're talking about. I was in a place where I hated my mother for the drugs and the abandonment. The fact that she never even apologized always made me bitter. But writing that song helped me see things another way," he revealed.
"I had to get to a point of realizing that despite all the things that happened to me, God had never left my side. He was there all along, even in my brokenness, redeeming it all and turning it around for His glory.
"He was saying, 'Nathan it's OK, just give it all over to Me and let Me take care of it.' I finally did when I sat down and wrote that song," Sheridan added.
The singer had one last message for anyone who's living in a similar situation as the one he experienced. 
"For the people reading this who are affected by drug use, whether you are the user or the victim of someone else's addiction, know that there is hope," he stressed.
"God can redeem any situation. He did it in my life. Know that He loves you so deeply and if you call on His name, He will bring healing, restoration and redemption. He will never leave nor forsake you. You may feel like there's no future beyond today, but I promise you there is. God has plans to give you hope and a future. He truly does love you."
For more information about Sheridan and his music, visit his website.