Linda Stoltzfoos, Amish teen who went missing after church, was strangled and stabbed: coroner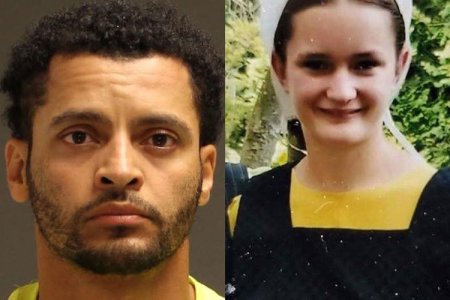 Linda Stoltzfoos, an 18-year-old Amish girl from Lancaster County, Pennsylvania, who was recently found dead after she went missing while walking home from church last summer, was strangled and stabbed in the neck, a coroner ruled on Friday.
Lancaster County coroner, Dr. Stephen Diamantoni, said Stoltzfoos was positively identified through dental records and confirmed that her cause of death was asphyxia from strangulation, along with suffocation. A stab wound was a contributing factor in her death, The Associated Press reported.
The Lancaster County District Attorney's Office announced that the remains of Stoltzfoos, who disappeared on June 21, 2020, after being kidnapped on Beechdale Road in Bird-in-Hand, East Lampeter Township, was found last Wednesday. 
Justo Smoker, 35, was previously charged with felony kidnapping and misdemeanor false imprisonment one month after Stoltzfoos' disappearance. Smoker was later charged with homicide relating to the death of Stoltzfoos in December 2020 after prosecutors alleged that the passing of time, along with the complete cessation of all routine activities, led to the inevitable conclusion that he had caused the teenager's death.
Stoltzfoos' remains were recovered on railroad property in a grave, wrapped in a tarp behind Smoker's previous place of employment, located on Route 41 in eastern Lancaster County. She was still wearing the dress, bonnet and shoes she was dressed in on the day she disappeared.
"Since charging this case we have maintained two goals: bringing Linda home to her family and securing a murder conviction against Smoker. While we charged the crime of homicide in December, I have no doubt that for Linda's family, her death only became a reality upon the news of her body being recovered," District Attorney Heather L. Adams said at a press conference last Thursday while asking for privacy for the teenager's family.
Mervin Fisher, an uncle to Stoltzfoos, told PennLive that finding his niece's remains gives them closure.
"The not knowing is a long, dark tunnel without an end. And when you find the remains, you have the end in sight," he said. "It brings closure, and when there's closure, the healing process can continue."
And even though prior to finding her remains, the family had been hoping his niece would be found alive, they were also preparing themselves for the worst.
"From day one there's been hopes. There's always a ray of hope that you cling to, even though it's very diminished. But when there's a body or remains, then it's reality," Fisher said. "We've been trying to be prepared."
The simple, family-centered Amish culture in Lancaster County keeps their devout faith community separate from their more secular countrymen. They believe in a literal interpretation and application of Scripture as the Word of God, including biblical commands to separate themselves from the things of the world. They believe worldliness can keep them from being close to God, and introduce influences that could be destructive to their communities and to their way of life.
Sparky Grace, who rents industrial space from Linda's grandfather for his woodshop, described the teenager as a "beautiful human being" in a tribute after her remains were found.
"I never met a teenage, young woman like Linda. Never a complaint and always moving to lend a helping hand, her meek ways were beyond rare. We did not lose a cute Amish girl. We did not lose a young woman. We lost a 'beautiful' human being resilient with the qualities many would hope to aspire in a lifetime. We lost Linda," he wrote in a Facebook post.