Analysis: 'Fix' for Indiana Religious Freedom Law Exposes Opponents' False Argument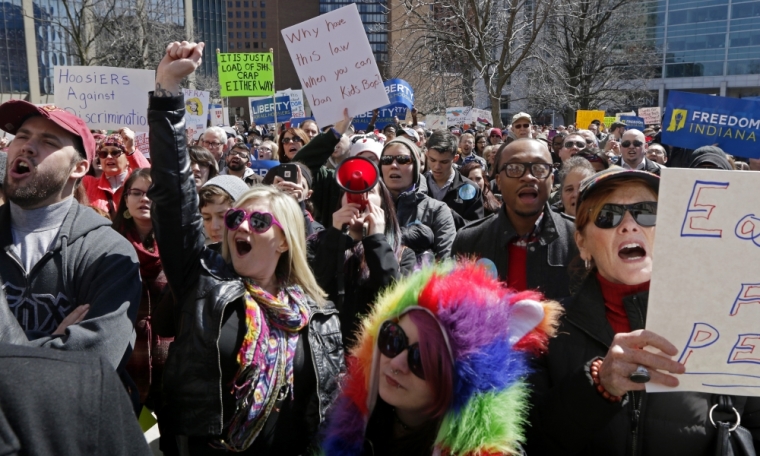 Indiana Gov. Mike Pence signed an amendment to the state's recently passed Religious Freedom Restoration Act Thursday in response to critics who claimed the bill authorized anti-gay discrimination. RFRA, however, is not an "anti-gay" bill and the proposed "fix" illustrates why the critics' arguments were false in the first place.
The change to Indiana's RFRA says that the law does not "authorize a provider to refuse to offer or provide services, facilities, use of public accomodations, goods, employment, or housing to any member or members of the general public on the basis of race, color, religion, ancestry, age, national origin, disability, sex, sexual orientation, gender identity, or United States military service." Further, it states that RFRA cannot be used as a defense from "civil action or criminal prosecution" for a provider who refuses the above. Churches, religious leaders and religious nonprofits are exempted.
As The Christian Post pointed out after passage of the Indiana RFRA, the law is not anti-gay. It provides religious freedom protections for all faiths, and does not single out (or even mention) gays in any way.
In proposing these changes to RFRA, however, opponents have exposed a major flaw in their argument that the law would lead to anti-gay discrimination. Those opponents point to the fact that their is no statewide anti-discrimination ordinance in Indiana for the categories of sexual preference and gender identity. (Some Indiana cities have a local ordinance.)
This means that if there were business owners in Indiana who wanted to discriminate against gays, they would not need the Indiana legislature to pass a law giving them permission to do so. They could do so already.
RFRA opponents successfully created a media firestorm with major news outlets falsely reporting that passage would lead to gays being denied access to "lunch counters" and other businesses. The misreporting led to companies and celebrities threatening to boycott the state of Indiana.
But if businesses can discriminate against gays already, why don't they? The answer, obviously, is they do not want to. Few businesses thrive by turning away customers.
The proposed changes to Indiana's RFRA, therefore, do not solve any actual problem. It could, however, undermine the purpose of the law.
In a Thursday press call, Mark Rienzi, senior counsel of the Becket Fund for Religious Liberty, pointed out, for instance, that the changes would mean that a Mennonite event planner could be forced to work at a Veterans Day parade even if she believed that would be a violation of her religious beliefs.
RFRA, without the changes, does not mean that the hypothetical Mennonite would automatically win such a case, but she would be able to present her case to a court, which would then apply the balancing test in RFRA. The proposed changes, however, specifically state that she could not "establish a defense to a civil action or criminal prosecution." In other words, the state could take away her religious freedom and she would not even be allowed to present her case to a judge under this modified RFRA.
What about though, the recent controversies over wedding vendors who have declined to service same-sex weddings because they believe that doing so would be a violation of their religious beliefs? The answer is the same. RFRA, without the changes, would mean that they could present their case in a court, but RFRA does not mean they automatically win. RFRA with the changes would mean they could be fined or imprisoned without the opportunity to present their religious freedom argument before a judge.