Ancient Palestine Church Provides Shelter for Muslims Fleeing Gaza Strikes
An ancient Palestinian church has become a sanctuary for dozens of Muslims fleeing violence in the Gaza strip.
The Greek Orthodox Church of Saint Porphyrius, whose origins date back to the 12th-century, is currently home to roughly 1,000 Palestinians hoping to get out of harm's way as Israeli forces continue to strike the region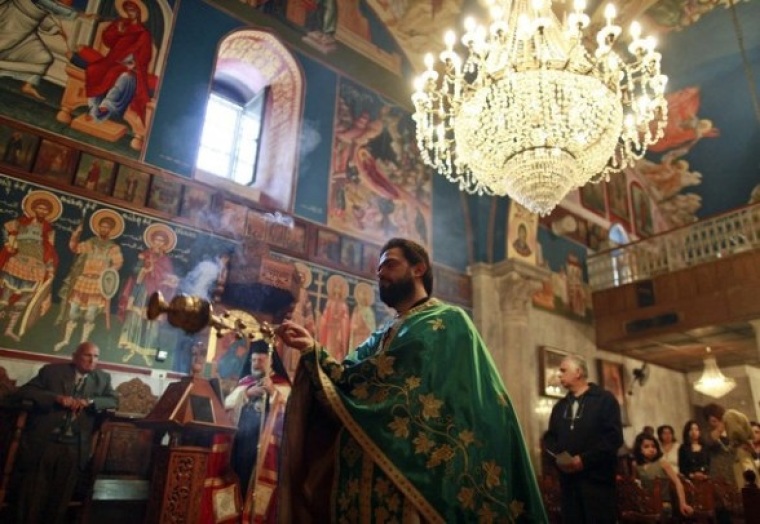 According to Reuters, the church has been attacked by IDF aircraft and shortly after the initial Palestinian families trickled in, "Israeli aircraft bombed a nearby field, spraying shrapnel on the church and damaging graves."
"We have opened the church in order to help people. This is the duty of the church and we are doing all we can to help them," Archbishop Alexios told Reuters.
In addition to shelter, St. Porphyrius has provided families with mattresses, chairs, food, blankets and toys.
"At the beginning there were 600 people and today they became a thousand - mostly children and women. Some of those children are a week old," he added.
Of the two million people that live in Gaza, roughly 1,000 are Christians. Despite not sharing the faith of many of their fellow Palestinians, Christians consider themselves "part and parcel" of the region, Alex Awad, a professor at Bethlehem Bible College and a pastor at East Jerusalem Church told The Christian Post last week.
"The Palestinian Christians in Gaza today, they suffer as much as the Palestinian Muslims in Gaza. They are under bombardment. They have only eight hours of electricity of every 24 hours. They have a hard time getting fresh water," he said. "The Palestinian Christians, they don't live in an isolated area where oh, this is a Christian town. No, they live among the Muslims in Gaza and therefore as much as the Muslims are suffering, the Christians are suffering, not only in the Gaza strip but also in the West Bank."
Despite this solidarity, five churches in the area were attacked in 2006, including Saint Porphyrius.
Israel and Hamas have been engaged in a violent conflict stretching over two-weeks now, with rockets being fired from both sides. Palestinian casualties have reached over 500, with thousands more injured, after the Israel government ordered a ground invasion into Gaza, targeting terrorist tunnels and other sites it said are a direct threat to the Israeli people.
Over 100 people, including women and children, were killed on Sunday in the bloodiest day since the conflict between Israel and militant group Hamas began. Following the attacks, Israeli Prime Minister Benjamin Netanyahu blamed Hamas for putting Palestinian civilians in the crossfire and using them as human shields.
"We're sad for every civilian casualty. They're not intended. This is the difference between us. The Hamas deliberately targets civilians and deliberately hides behind civilians. They embed their rocketeers, their rocket caches, their - their other weaponry from where - which they fire - which they use to fire on us in civilian areas," Netanyahu told CNN in an interview on Sunday.
"What choice do we have? We have to protect ourselves. So we try to target the rocketeers. We do. And all civilian casualties are unintended by us, but intended by Hamas. They want to pile up as many civilian dead as they can, because somebody said they use - it's gruesome. They use telegenically dead Palestinians for their cause. They want the more dead the better."