Anti-Trump Message Not Working for Democrats, Party Leaders Look to Rebrand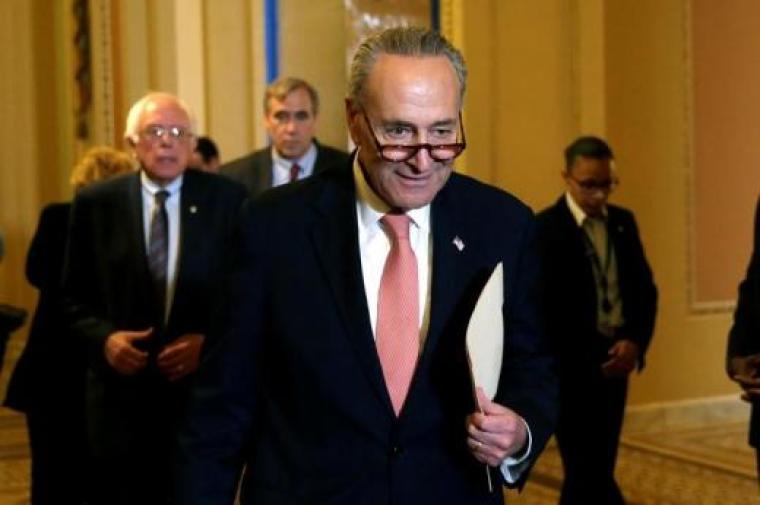 As polling shows that more Americans today think that the Democratic Party "just stands against" President Donald Trump instead of promoting its own messages and ideas, leading liberals are calling for the party to unify its base by refocusing its attention on providing a strong economic alternative.
A Washington Post poll from last week found that only 37 percent of Americans believe that the Democratic Party actually "stands for something" and 52 percent believe that the party "just stands against Trump."
With focus now on the 2018 midterm elections, that same poll found that only 24 percent of registered voters plan to vote based on their opposition to Trump in the midterm elections. Meanwhile, 20 percent of registered voters will vote based on their support of Trump. Fifty-one percent of registered voters said that Trump will not factor into their midterm votes.
As Fox News political analyst and registered Democrat Juan Williams notes, the four-percentage-point split between those who say their midterm votes will be a show of support for or a show of opposition to Trump is "smaller than the 10-point disadvantage for President Obama going into the 2014 midterms or the 14-point disadvantage for President Bush going into the 2006 midterms."
Senate Minority Leader Chuck Schumer, D-N.Y., commented on the Washington Post poll during a Sunday interview with ABC's George Stephanopoulos.
"When you lose an election with someone who has, say, 40 percent popularity, you look in the mirror and say what did we do wrong? And the number one thing that we did wrong is we didn't have — we didn't tell people what we stood for," Schumer admitted. "Even today, as your poll showed, they know we're standing up to Trump. They like that. But they want to know what do you stand for?"
On Monday, leading Democrats will unveil a legislative agenda called "A Better Deal: Better Jobs, Better Wages, Better Future." According to Schumer, the agenda has three prongs that will focus on creating more job-training opportunities, lowering costs of everyday expenses and raising wages.
Schumer was asked by Stephanopoulos why Democrats didn't release this type of economic agenda during the 2016 campaign.
"Well, I don't know why it didn't happen in the campaign. We all take blame, not any one person," Schumer said, adding that the new legislative agenda is "is not going to be left or right."
"It will unify the Democratic Party, because we are united on economic issues. And a bold, sharp-edged message, platform, policy, that talks about working people and how the system is rigged against them is going to resonate," Schumer continued. "And this is the first time we're going to have it, and our party is going to be unified."
Former Vice President Joe Biden said during a speech at the University of Pennsylvania in March that the 2016 election was "the first campaign that I can recall where my party did not talk about what it always stood for — and that is how to maintain a burgeoning middle class."
"The truth of the matter is, you didn't hear a single solitary sentence in the last campaign about that guy working on the assembly line making $60,000 a year and a wife making $32,000 as a hostess in a restaurant," Biden said. "And they ... making $90,000 and they got two kids and they can't make it. And they're scared, they're frightened."
Democrat Sen. Chris Murphy of Connecticut said in an interview with Vanity Fair that Democrats have also "made the mistake of thinking constituency groups care only about 'their issues.'"
"We talk to women about reproductive rights and African-Americans about police brutality," Murphy said. "Those are important issues, but they all care about other things."
Mark Penn, a pollster and senior adviser to Bill and Hillary Clinton from 1995 to 2008, and Andrew Stein, a former Manhattan borough president and New York City Council president, wrote in an op-ed published by the New York Times earlier this month that the party's path back to the White House and congressional majorities is by moving to the center and rejecting "the siren calls of the left, whose policies and ideas have weakened the party."
"Americans are looking for can-do Democrats in the mold of John F. Kennedy and Bill Clinton — leaders who rose above partisanship to unify the country, who defended human rights and equality passionately, and who also encouraged economic growth and rising wages," they wrote. "That is the road back to relevance, and the White House, for the Democrats."