'Apocalyptic' Devastation in Puerto Rico, Says Priest; Island Suffering 'Disaster After Disaster'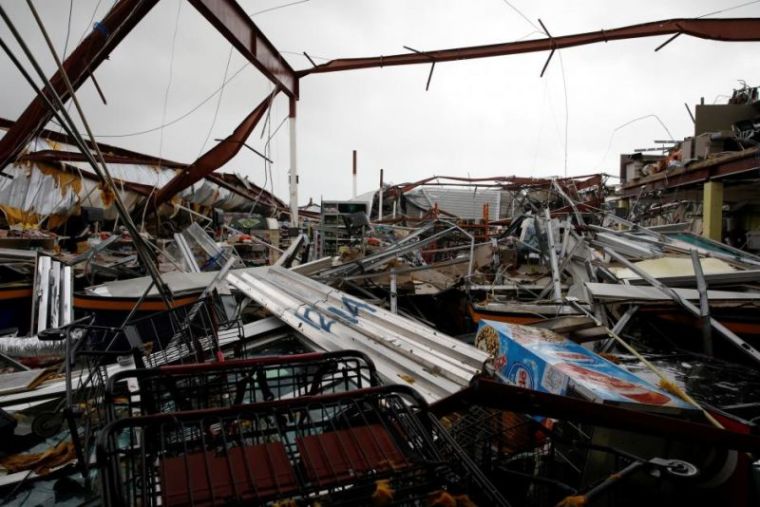 A Jesuit priest said that the devastation of Puerto Rico due to Hurricane Maria can be described as "apocalyptic," as the island has suffered disaster after disaster.
Reuters reported on Monday that the storm has left Puerto Rico's hospitals flooded, with diesel generators needed to keep some patients alive. The U.S. territory has also lost virtually all cellular, internet, and email service, with the electrical grid system expected to be down for months.
Officials said on Friday that at least 13 people have died so far, with fears that the death toll could rise.
Jesuit Father Flavio Bravo, the superior of the Society of Jesus' Puerto Rico community, who surveyed the damage left behind by Maria, said in a Catholic News Service report on Friday that the situation is nothing short of "apocalyptic."
Bravo shared of one scene of devastation that stood out, namely the bent 6-foot-5-inch cross at the entrance of Colegio San Ignacio de Loyola, the secondary school the Jesuits operate on the island.
The cross was reportedly bent into a 45-degree angle by the forceful winds, making it look now almost like a sword planted on the cement post.
"It was a sight that touched me. But that cross invites me to think: What have I done for Christ? What am I doing for Christ? What ought I do for Christ?" Bravo said, referring to the Jesuits' Spiritual Exercises. "It was a message of destruction but also of reconstruction."
Puerto Rico has not only been hit by back-to-back hurricanes, including Irma, but has also been struggling with massive economic problems, which had already forced many to flee.
"It's an avalanche of disasters, one disaster after another disaster," Bravo described.
Numerous relief groups have been collecting donations in their disaster efforts, with the American Red Cross launching a multi-island relief effort for Puerto Rico and the U.S. Virgin Islands.
"Hurricane Maria left behind severe flooding and widespread destruction in Puerto Rico and the U.S. Virgin Islands. The storm destroyed hundreds of thousands of homes, businesses, schools and hospitals in both territories," the Red Cross explained.
It added that the need for volunteers to donate blood is constant, and is needed every day, not only during disasters.
"It's the blood already on the shelves that helps during a disaster. Through our national inventory system, the Red Cross has the ability to move blood around the country to wherever and whenever it is needed most," it said.
Christian relief group Samaritan's Purse is also sending a disaster assistance response team and emergency relief supplies to Dominica and Puerto Rico.
"My prayers are with the many who have seen their homes and businesses devastated by Irma's wind and water. They will now be facing an overwhelming clean-up," said Samaritan's Purse President Franklin Graham. "I pray especially for those who have lost loved ones in the storm."
A coalition of New York City civic leaders, including Mayor Bill DeBlasio, U.S. Congress Members Nydia Velázquez and Adriano Espaillat, and New York City Council Speaker Melissa Mark-Viverito, meanwhile, joined the Hispanic Federation to launch "Unidos," pledging to help those impacted by Hurricane Maria in Puerto Rico.
"The devastation caused by Hurricane Maria in Puerto Rico is unprecedented in the island's modern history," said José Calderón, president of the Hispanic Federation.
"As the island struggles to recover from multiple disasters, including a long-term economic crisis and the damage wrought by Hurricane Irma just a few weeks ago, Hurricane Maria's destructive forces has deepened the suffering of the Puerto Rican people beyond comprehension."