Aretha Franklin's Churchy Rendition of 'Star Spangled-Banner' (Watch)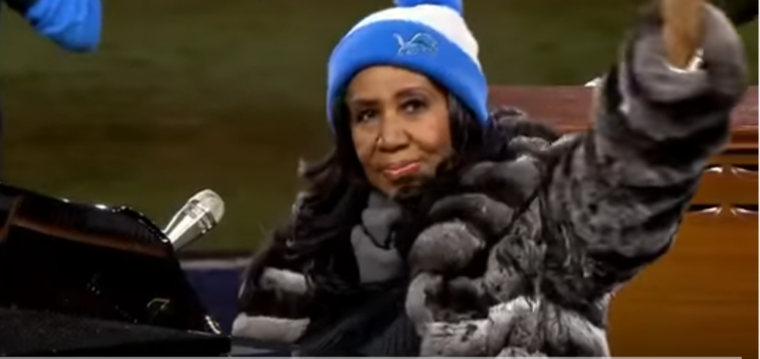 Dubbed America's "Queen of Soul," singer Aretha Franklin delivered a lengthy version of "The Star-Spangled Banner" before a game between the Detroit Lions and Minnesota Vikings on Thanksgiving Day with the sound of a soul-stirring church service.
Wrapped in a gray-and-black mink coat and a Detroit Lions knit hat, the 18-time Grammy Award-winner blew a kiss to the cheering crowd and then situated herself behind a piano to perform her 4-minute rendition of the national anthem.
Throughout her performance in her signature style, Frankin occasionally allowed a note to trail off in a sorrowful moan or extend a verse with an "oh yeah" to rouse a response from the audience.
During the performance Franklin had a couple of hiccups, as do many singers when it comes to performing Francis Scott Key's 1814 poem, which has become an American anthem that often elicits pressure to get it right.
In the third line of Franklin's rendition "fight" sounds like "flight." On the seventh line instead of saying, "O say does that star-spangled banner yet wave," Franklin begins to repeat "O, say can you see ... " from the first line, but she quickly recovers.
Franklin's father was C.L. Franklin, pastor Michigan-based New Bethel Baptist Church, who was reportedly so revered for his fiery sermons that he came to be known as the man with the "million dollar voice." His celebrity grew so much that he was visited by stars like Sam Cooke, Albertina Walker and James Cleveland.
Listen to Aretha Franklin's lengthy version of "The Star-Spangled Banner" below.