Arizona Cardinals' David Johnson Expresses His Christian Faith With Shirt on Christ's Humility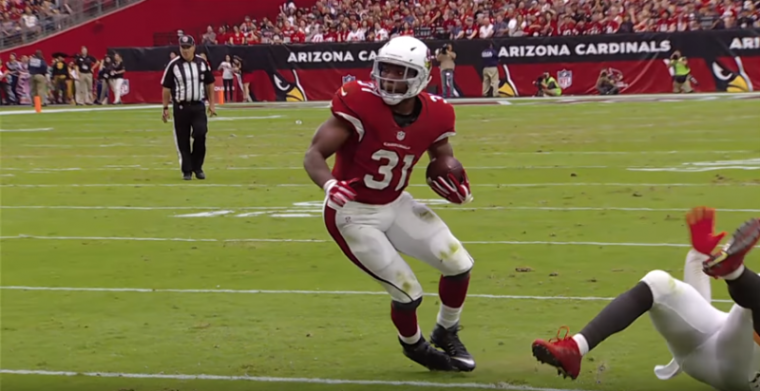 While preparing for the upcoming NFL season with his teammates, Arizona Cardinals running back David Johnson was spotted sporting a shirt with Bible verses.
This past weekend, Johnson was in front of some members of the media when he was asked about the eye-catching shirt he was wearing, which featured the word "approved" on the front in big, bold letters.
When a reporter asked Johnson if he wore the shirt as a way to not so subtly hint at his contract desires, Johnson said that is not the case, Sports Spectrum reported.
Instead, Johnson revealed that he wore the shirt because he liked it and that it was given to him by the Christian rapper KB.
What is not immediately apparent about the shirt Johnson was wearing is that it conveys a biblical message on the back.
Passages from Philippians 2:1-11 are written across the back of the shirt.
The aforementioned passages talk about being united with Christ in mind, spirit and love. The passages also encourage people to place others above themselves as Christ did when he spent time on Earth, and speak of Christ humbling himself and how his willingness to sacrifice His life has led to God exalting him.
The 26-year-old Cardinals star has not shied away from talking about his Christian faith.
Speaking previously to Sports Spectrum, he shared that he thanks God for having the career he has now.
Johnson is also grateful to God for blessing him with the talent necessary to play in the NFL.
The Cardinals selected Johnson in the third round of the 2015 NFL Draft.
Prior to injury issues that cut his 2017 season short, Johnson was prominently featured in the Cardinals offense.
Over the course of his 2015 campaign, Johnson rushed for 581 yards and scored eight touchdowns. He also tallied 457 receiving yards and found the end zone four times as a pass-catcher, according to Pro Football Reference.
Johnson's numbers would rise significantly the following year, as he piled up 1239 yards on the ground and added 879 more yards as a receiver. He also rushed for 16 touchdowns and caught four passes for scores that season.
In recognition of the way he produced in his sophomore season, Johnson earned a Pro Bowl nod and he was also named to the All-Pro First Team.
Johnson has only one year remaining on his current deal with the Cardinals.